Tech of the week: cyclocross in Belgium, new UCI rules and winter cycling advice
And how to buy Mark Cavendish's Cervélo and a pricey chain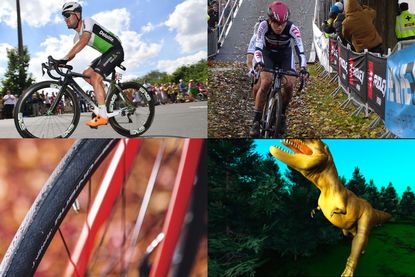 Riding a Ridley and a prestige used bike
We've been in Belgium, riding the Superprestige Gavere cyclocross course on Ridley's top of the range X-Night SL. And we watched the race the next day too and have told you what it's like to be a spectator at one of Belgium's top events.
While if you're anticipating next year's road racing, you'll want to know about 12 changes that the UCI has made to the rules. And you'll be pleased to know that it intends to get tough on the cheats next year. No not those taking EPO, but any who wear their socks too high.
We've a round-up of the best budget bikes we've tested in 2018. Or if you're thinking of a bike upgrade, we've told you how to get your hands on the Cervélo S5 ridden by Mark Cavendish last season. You might want a new chain to go with Cavendish's bike – we've told you how to get your hands on the £250 Reynolds chain used on the Olympic track bikes.
Winter tyres and winter training
In bike fit advice, we've had how to set your saddle height without resorting to an expensive pro fit. And we've had our pick of budget and de luxe cycling shoes and told you how to get your cleats positioned correctly.
We've also asked about the best tread pattern for winter tyres – lots of grooves aren't necessarily better – and told you how to choose your tyre pressure. Plus, we've got winter training sessions to keep you fit and ready for next race season. Or you could try the Sufferfest – we've demystified the jargon.
If all that fails, we've six ready-made excuses for why you're not keeping up.
If you use Britain's cycle network, it will come as no surprise to learn that surfaces and signage aren't up to par. Although you can take heart from the news that cycle commuters, along with walkers, have the shortest daily commuting times – by almost 10 minutes a day.
With Black Friday at the end of this week, we've been ramping up the deals. So we've found deals on helmets and wheels. We've also got our pick of the deals from Chain Reaction Cycles and from the US retailers. Or check out our round-up of the best Black Friday deals we've found at the moment.
And there's still Sunday Trading if you need more bargains to tempt you.
Thank you for reading 5 articles this month* Join now for unlimited access
Enjoy your first month for just £1 / $1 / €1
*Read 5 free articles per month without a subscription
Join now for unlimited access
Try first month for just £1 / $1 / €1