It's 'Travel Week' on Cycling Weekly: your guide to the best holiday destinations, and the kit you'll need to make it happen
Our week-long special is going to get you dreaming of warmer places to ride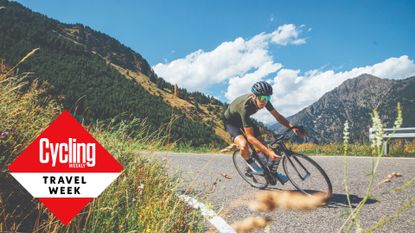 (Image credit: Future)
Looking to escape the winter grind? Between the 16th and 21st, January it's Travel Week here at Cycling Weekly! We'll be dreaming of the best cycling holiday destinations and sharing with you all our tips, tricks and advice for getting the very best out of your time abroad.
There are few things better than the sense of achievement - and the incredible views - you get some summiting cycling's most iconic climbs. But let's not forget the plethora of equally stunning - although lesser known - mountain roads which network through the hinterlands of so many cycling destinations.
Whether the whole point of your trip is to further enhance your climbing prowess - or if you're looking to develop your climbing abilities so as to better enjoy and explore more widely the place you'll be traveling to - a few tips on how to improve your climbing is something almost all of us will benefit from.
Of course, there's still that age-old question: should you hire a bike or take your own for a cycling holiday?
You can find top spec bikes at many hire locations, so if you've always wanted to ride one of the best road bikes - such as a Pinarello Dogma F with top drawer components - or just want to try what a different bike feels like to ride, hiring might give you the chance you've been waiting for.
On the other hand, taking your own bike though means it's ready set up with the saddle height, offset and reach exactly as it should be. But if you decide that you want to go down this route, you'll want to invest in one of the best bike bags or boxes for easy and safe transportation.
Finally, warm weather riding means it's time to dig out your warm weather clothes - if you need to refresh your summer attire, check out our guides to the best bib shorts, and the best short sleeve cycling jerseys.
We've got plenty to come this week, from cycling in France and Scotland, winter gravel getaways and how to get the greatest fitness bang for your buck from a cycling training camp. But if you just can't wait, here's a few pages you can jump straight in on...
Best cycling destinations and training tips
What's coming up...?
We'll be adding hyperlinks as the pages go live…
Thank you for reading 20 articles this month* Join now for unlimited access
Enjoy your first month for just £1 / $1 / €1
*Read 5 free articles per month without a subscription
Join now for unlimited access
Try first month for just £1 / $1 / €1