Aldi unveils Special Buys with turbo trainer for £49.99, lights and merino clothing
The deals will be available to pre-order from September 23 and in-store from September 30 - until they're gone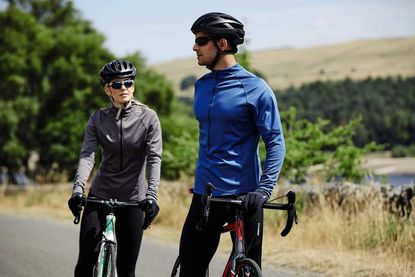 (Image credit: Picasa)
Supermarket Aldi has unveiled a fresh batch of 'Special Buys' tailored to cyclists preparing for the annual plunge into the depths of winter - with one of the best rain jackets, a collection of merino wool cycling clothing, lights and a £49.99 turbo trainer nestling amongst the deals.
'Special Buys' are available online and in Aldi stores, but once they're gone, they're gone - and the value for money offerings don't often hang around for long.
The range will be available to pre-order online from Sunday September 23, and they'll arrive in stores on Sunday September 30.
For those looking to take their training indoors, there's a turbo trainer for £49.99. With six magnetic resistance levels, this will allow you to clip your bike in and pedal away when the weather outside just looks too uninviting.
There's also a speed/cadence sensor for £19.99, which can pair with the trainer so you know how far you'd have travelled and can log your workouts with supported apps.
If you're keeping it outdoors, rechargeable bike lights come in at £14.99. The clothing collection is equally barginous. The 'Merino Cycling' range offers a jersey for £19.99, base layers at £16.99 and - every cyclists favourite fashion accessory - socks for £4.99. All of the items are infused with the wonder fabric which is known for being warm, breathable and warding off whiffs.
If you don't find what you need in this sale, then check out our page dedicated to the best winter cycling jackets to find your perfect.
For drizzly weather there's a hooded cycling jacket (£24.99) that's said to be waterproof, windproof and breathable, and a £19.99 rain jacket as well as cycling tights for £13.99.
For those riding into the depths of winter, there's a 'Cycling Pro' range to get you ready - this includes 'heavy duty' overshoes (£14.99) and 'waterproof breathable' socks for £12.99 plus neoprene cycling gloves - which keep warmth in much like a wetsuit - at £9.99
There's one online only item - a Livall Mt1 Smart Helmet - which at £79.99 meets the current safety regulations and also comes with LED tail lights to provide turning signals. Smartphone connectivity interacts with Bluetooth speakers, allowing riders to make calls and play music too - though we'll leave shoppers to decide how useful that is.
There's also some returning products - like the Aldi workstand, for £8.99 you can pick up some Muc-Off bike cleaner for £3.99.
Here's a breakdown of all the deals...
Online only
Livall Mt1 Smart Helmet - £79.99
Cycling products
Indoor Bike Trainer - £49.99
M/L Hooded Cycling Jacket - £24.99
M/L Convertible Cycling Jacket - £19.99
Speed & Cadence Sensor - £19.99
M/L Cycling Rain Jacket - £19.99
Floor Bike Stand - £16.99
Rechargeable High Powered Bike Lights - £14.99
M/L Waterproof Over-Trousers - £14.99
M/L Cycling Tights - £13.99
High Performance Bike Lights - £12.99
U-Shackle Bike Lock - £9.99
Reflective Cycling Set - £8.99
Folding Bike Stand - £8.99
Saddle Bag Tool Set - £8.99
Memory Foam Saddle Assortment - £8.99
M/L Seamless Cycling Base Layer Top - £6.99
Weatherproof Cycling Gloves - £5.99
Muc-Off - £3.99
Bike Saddle/ Tail/ Dual Bike Lights - £2.99
ERGONOMIC Cycling Socks (Watres) - £2.99
Merino collection
M/L Cycling Wind Jersey With Merino - £19.99
M/L Merino Sports Base Layer - £16.99
Sports Accessories With Merino - £5.99
Merino Blend Cycling Socks - £4.99
Pro collection
Heavy Duty Overshoes - £14.99
Waterproof Breathable Socks - £12.99
Neoprene Cycling Gloves - £9.99
Thank you for reading 20 articles this month* Join now for unlimited access
Enjoy your first month for just £1 / $1 / €1
*Read 5 free articles per month without a subscription
Join now for unlimited access
Try first month for just £1 / $1 / €1