Top 15 cycling videos of 2015
Here's our pick of the top cycling videos of 2015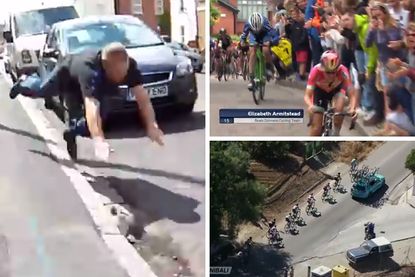 It's the end of another year, and there has been plenty going on in the world of two wheels. Thanks to user generated content and official race coverage we have been treated to plenty of amusing, entertaining and enthralling videos this year.
To round out 2015 we've gathered together our top cycling videos from the past 12 months.
Motorist takes a tumble
https://www.youtube.com/watch?v=2PFRdEUN240&feature=youtu.be
This video made it in for a number of reasons: it's one of the most viewed cycling clips on YouTube, it proved popular when we first published it and it's pretty funny.
Most people will probably have already seen this, but it's definitely worth another look.
Armitstead's Nationals winning attack
https://youtu.be/yJlMccPjOWI?t=1m28s
Before she became World Champion at the end of the season, Lizzie Armitstead won the British National Championships in emphatic fashion. Relive the moment she put the other competitors to the sword and showed why she's a cut above.
Nibali's car holding antics
https://youtu.be/bv_g4BJregQ?t=30s
Vincenzo Nibali has had something of an up and down season: failure to defend his Tour de France crown was followed by a tilt at the Vuelta a España.
However, this attempt at the final Grand Tour of the year ended very quickly when he was disqualified from the race on stage two for taking the magic spanner to a whole new level.
Geraint Thomas blown off bike
https://www.youtube.com/watch?v=-nQM_38OOVo&feature=youtu.be
The conditions for this year's Ghent-Wevelgem were truly Flandrien. Riders had to contend with rain and very strong winds as they competed for the win.
Falling foul to a particularly violent gust, Geraint Thomas was blown off the road, did a flip and nearly went in a ditch.
He recovered to rejoin the group and came third in the race after Luca Paolini attacked to win solo.
Wiggo's minute man
He may have been TT World Champion but Sir Bradley Wiggins still turned up for a British domestic 10 mile time trial.
Setting out to beat Alex Dowsett's national record for the distance, Wiggo smashed past his minute man - as can be seen in the above video.
The 2012 Tour de France champion won on the day but wasn't able to take the record.
Bike of the year
Our tech team headed to Cumbria to put some top machines through their paces. Here's CW's choice for bike of the year.
Chris Boardman explains why we ride two abreast
https://vimeo.com/136215353
Olympic legend, Tour de France record setter and now cycling safety campaigner; Chris Boardman teamed up with a driving instructor to show why us cyclists ride two abreast.
The informative video demonstrates the safety benefits for both the riders and the passing motorist.
Geraint Thomas's Tour de France crash
https://youtu.be/E1eRPyuuy3M?t=7s
Super-domestique Geraint Thomas makes the list again thanks to the lucky escape he had on stage 16 of this year's Tour. A wayward Warren Barguil bumped into the Welshman and sent him careering off the road.
Thomas banged into a telegraph pole but escaped uninjured, and kept his sense of humour intact.
Jack Bauer's bike throw
https://www.youtube.com/watch?v=do9AANOUqTo&feature=youtu.be
During the same race where Thomas was blown from his bike, Garmin rider Jack Bauer also suffered as a result of the wind.
A discarded musette was blown into his rear wheel, and this video sums up just how he felt about it.
Peter Sagan's wheelie goes wrong
Peter Sagan's bike handling is usually second to none, but when showing off to the crowd this time it didn't quite go to plan.
Geraint Thomas: fan favourite
https://youtu.be/q_O_wk_H0-k?t=1m40s
Here's Geraint again. This time he gets disqualified from a race but proves why he's so popular with fans.
Jesse Sergent taken out by neutral service
https://www.youtube.com/watch?v=hsexjF6Iaz0
Earlier this year it felt like there was a worrying trend developing where incidents of collisions between riders and race vehicles were becoming all too common.
Jesse Sergent was wiped out by a Shimano service vehicle during the Tour of Flanders, one of two crashes in that race alone. Things went quiet until Peter Sagan's Vuelta was ended by a moto collision.
Sky car abused on Alpe d'Huez
As well as having to beat his rivals and the parcours, Chris Froome's second Tour de France victory came in the face of some quite vitriolic behaviour from a minority of 'fans' and some sections of the French press.
This video shows the reception the Team Sky car received on Alpe d'Huez.
Sagan's descent from the Col de Manse
https://www.youtube.com/watch?v=mAgTXrOb9ws
Chasing an illusive Tour stage win, Sagan went all out to try and catch lone leader Ruben Plaza.
Despite this rapid descent of the Col de Manse, the Slovak could not catch the Lampre-Merida rider and instead recorded yet another second place.
Confusion leads to carnage in Chinese race
https://www.youtube.com/watch?v=jNWC31qplcE
This final video takes us to the Far East. Confusion in the closing kilometres meant that two groups of sprinters headed for the same finish line, from opposite directions. This footage shows the moment they come into contact.
Thank you for reading 20 articles this month* Join now for unlimited access
Enjoy your first month for just £1 / $1 / €1
*Read 5 free articles per month without a subscription
Join now for unlimited access
Try first month for just £1 / $1 / €1