Specialized launches S-Works Recon off-road shoe
New top of the line off-road shoe features ultra-strong upper materials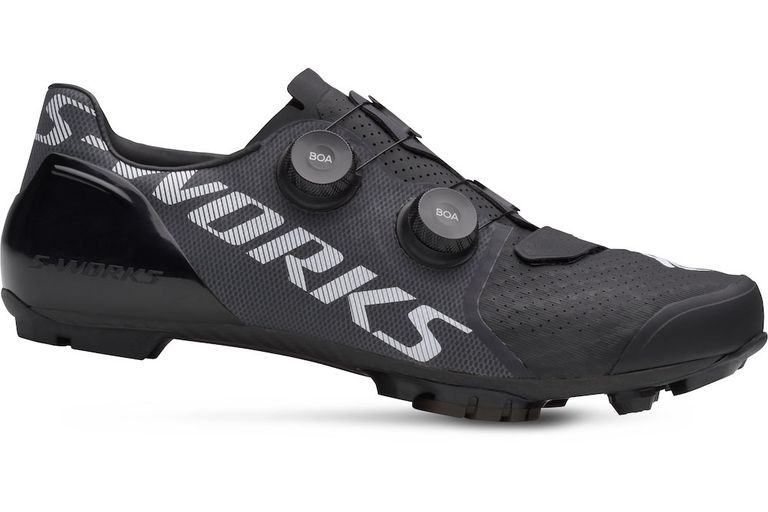 Designed for off-road riding, whether cyclocross, gravel or XC MTB racing, the S-Works Recon comes with all the top notch features of the S-Works road shoes, but with the extra robustness and grip needed for life off road.
As you'd expect, Spesh uses an ultra-stiff (13 on the brand's stiffness index) all-carbon sole unit, which is coupled with rubber lugged sections at the heel, midsole and toe. There's the option to screw in spikes too.
Other features include a titanium alloy floating plate for two bolt cleats. The new shoes come with two fancy S3-Snap Boa dials. They're a Specialized exclusive and made of metal with CNCed grips, so they should be robust.
The upper of the S-Works Recon is made of Dyneema fabric layered into a mesh/ TPU sandwich. Dyneema is an ultra-strong polyethylene made in the Netherlands and, claims its maker, is 15 times stronger than steel, but lighter than water, while still being pliable enough to mould to your feet. It's also been used in abrasion resistant cycling clothing worn by the pros.
The front of the shoe incorporates a moulded toe bumper, while there's a stiff heel cup.
Like all Specialized's shoes, the Recon incorporates the brand's Body Geometry features, including a canted footbed for better leg alignment, leading to a claimed boost in power. The footbed includes a raised bump in its midsole, designed to support your midfoot and prevent hot foot when riding.
At 616g for a pair of size 9 shoes, the S-Works Recon is light too. Black seems like a sensible colour choice, but the S-Works Recon is available in red as well and is priced at £325.
Look out for our test of the new shoes, coming in December.