Tech of the week: A new Zwift world, new Canyon Aeroads, Peter Sagan's retro glasses and much more
All the best tech from last week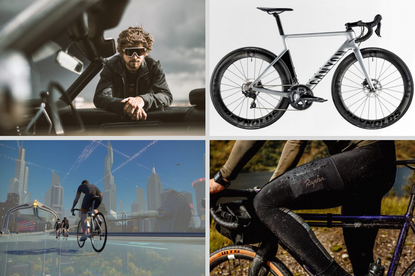 Last week was a busy week in the world of tech, including new a new Zwift world release, another range of Canyon Aeroads, new 100% glasses and more Cargo kit from Rapha. Let's go!
Zwift meets Blade Runner
New York, 100 years in the future. You don't know if they person riding next to you is human or a replicant (what do you mean you've never seen Blade Runner?).
The new world, set in the future, is centred around Central Park, taking in sights like The Guggenheim, and The Met, as well as featuring high rise glass roads to take you up to the height of the sky scrapers. In total there will be 10 new courses.
Read more: Zwift launches a New York world which includes 10 new courses
Canyon's Aeroad enters the market at a lower price
Canyon announced last week that it was introducing a new range of Canyon Aeroads that will sit just below the top end Aeroad CF SLX models. The new bikes are named Canyon Aeroad CF SL, and in total there will be nine new models.
The new range starts with a Shimano 105 equipped model - a new price point for the brand - and tops out with Shimano Ultegra Di2 equipped bike that rolls on DT Swiss wheels. There's a women's model at both the top and bottom end as well as a shiny new silver paint job.
Read more: Canyon releases a new range of Aeroad bikes, including a 105 equipped model
Sagan, 100% and vintage muscle cars
Peter Sagan received a retro makeover last week with the release of the 100% Glendale sunglasses. The new specs deliberately channel a retro Americana vibe and the launch material featured vintage muscle cars – one of Sagan's favourite things, aside from bike racing of course.
The new glasses have the distinctive cylindrical shape of 100% and are available with both standard and HiPER lenses. We've just take receipt of a pair so watch this space for a full review.
Read more: Peter Sagan and 100% launch retro Glendale sunglasses
Rapha goes wild
Rapha expanded its adventure range last week, introducing the Rapha Cargo bib tights. The brand new tights promise to be the perfect accompaniment to any wild adventures you fancy going on.
The new kit features the same pocketed design as the Cargo shorts that were released in the summer. The new tights also have some additional reflective strips on them, with some carefully placed directly in the driver's line of sight.
Read more: Rapha expands its adventure line with new cargo bib tights
Reviews this week
As ever, we've been industriously reviewing products and last week, including a bumper crop of smart turbo trainers:
That's it, you're all caught up on the tech news from last week!
Thank you for reading 10 articles this month* Join now for unlimited access
Enjoy your first month for just £1 / $1 / €1
*Read 5 free articles per month without a subscription
Join now for unlimited access
Try first month for just £1 / $1 / €1