Marin bikes range: which drop-bar model is right for you?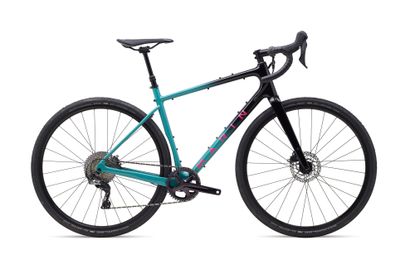 Marin Bikes may hail for the birthplace of mountain biking, but the Californian brand now has a selection of quality road and gravel bikes in it's range to suit every rider.
Marin County in California has been front and centre of off-road innovation for decades, and so naturally the region has spawned a number of bike brands rooted in the pioneering days of the 1970s, including Marin Bikes.
Founded by Bob Buckley in 1986, Marin Bikes reflected the organic growth of the northern California off-road scene. Trails were built, riding styles progressed, and bikes needed to keep pace.
Buckley sought to produce an affordable range of bikes that would meet the demands of both terrain and rider. Hanging out at the iconic Sunshine Cycles in Fairfax, Buckley met soon-to-be national champion Joe Murray. A relationship was struck, the brand took flight, and Murray would become Marin's first product manager.
Marin Bikes eventually changed hands in 2011 after a few too many downs and not quite enough ups. But despite the change, the brand remains rooted in the very same soil. Under new and invigorated leadership, Marin's legacy continues.
Marin's forays into road bikes began as far back as 1991. Today, Marin offer a comprehensive line-up of drop-bar bikes that pay homage to the brand's origins. These are road and gravel bikes built for exploration and for surfaces that are less than perfect.
>>> Best gravel bikes: a buyer's guide with reviewed models (opens in new tab)
Useful links for road bike shoppers…
Swipe to scroll horizontally
| | |
| --- | --- |
| Brands/topics | Model overviews and reviews |
| BMC bikes | BMC bike reviews |
| Boardman | Boardman bike reviews |
| Cannondale | Bike reviews,SuperSix Evo,CAAD12,Synapse |
| Canyon bikes | Canyon bike reviews |
| Carrera bikes | Carerra bike reviews |
| Cervelo bikes | Cervelo bike reviews |
| Cube bikes | Cube bike reviews |
| Focus bikes | Focus bike reviews |
| Genesis bikes | Genesis bike reviews |
| Giant bikes | Giant bike reviews,Giant Defy,Giant Propel,Giant TCR |
| Pinarello | Pinarello bike reviews |
| Raleigh bikes | Raleigh bike reviews |
| Ribble bikes | Ribble bike reviews |
| Scott bikes | Scott bike reviews |
| Specialized | Bike reviews,Allez,Tarmac,Diverge |
| Trek bikes | Bike reviews,Domane,Emonda,Madone |
| Price points | Bikes under £500,under £1000,under £1500,under £2000 |
| Road bike styles | Aero road bikes,Endurance road bikes,Women's road bikes,Commuting bikes,Touring bikes,Singlespeed bikes,Track bikes,Time trial bikes |
| Other bike styles | Adventure and gravel bikes,Cyclocross bikes,Electric bikes,Hybrid bikes |
Marin's range of bikes
Why you can trust Cycling Weekly Our expert reviewers spend hours testing and comparing products and services so you can choose the best for you. Find out more about how we test.
Marin's Beyond Road range features four models: Headlands, Gestalt, Gestalt X and Nicasio. Each model is available in a number of builds to meet a range of budgets and component preferences. While each model differs they all share the Beyond Road Geometry, which Marin states "offers a blend of endurance road handling with enhanced stability for off pavement use". Outside of the Beyond Road range, there's a couple of commuter options, too.
With each product is a 'Best Deal' link. If you click on this then we may receive a small amount of money from the retailer when you purchase the item. This doesn't affect the amount you pay.
Here's a look at the key models in Marin's drop-bar range...
The Marin Headlands are one of gravel riding's most iconic spots. So it perhaps should come as no surprise that Marin's carbon grave bike bears their name. The bike comes in two models, Headlands 1 and Headlands 2, as well as being available as frameset only option.
The Headlands builds around a unidirectional full carbon frame that is typical of modern gravel chassis. There's plenty of tyre clearance - 700 x 45mm or 650b x 47mm - as well multiple mounts for cages and bags. Both point to Marin's desire for the Headlands to be ready for longer trips over rugged terrain. However, the geometry suggests that this is a bike that will perform on technical trails too: it utilises the combination of short-ish chainstays paired with a longer top tube to keep the ride nimble.
The frameset comes with a seat tube port for internal dropper routing, further evidence of the Headlands' versatility. The Headlands 2 even comes with dropper post as stock. Other notable details include a 1x drivechain on both models: Headlands 2 has a Shimano GRX hydro groupset, and the Headlands 2 opts for SRAM's Apex 1 hydro offering. On the 2, there is 700c wheelset, and 650b on the 1.
Interestingly the Headlands also comes with mounts for both mudguards and a rear rack. A lightweight commuter then too, perhaps?
The Gestalt fits neatly into Marin's Beyond Road category. Its geometry is much the same as the Headlands'; a blend that aims for comfort and stability without sacrificing handling. The 6061 aluminum frame has disc brakes, internal cable routing and plenty of mounts, including mudguard and rack eyelets. The Series 3 frame used on the Gestalt 2 adds thru-axles and a tapered headtube.
However, unlike the Headlands, the Gestalt maximum tyre clearance is 700 x 35mm. This probably makes the Gestalt more appealing to endurance road riders and commuters and for off-road journeys over miles of hardpacked gravel and maintained fire roads rather than rugged, steep double track and unpredictable trails.
The theme continues with the drivechain specs. Both of the 2021 models - the Gestalt 1 and Gestalt 2 - are fitted with 2x chainsets with a gearing range that is distinctly 'all-road'. The 1 is equipped with a 9-speed 50/34compact chainset and an 11-32 cassette while the 2 pairs a 10-speed 50/34 chainset with an 11-34 cassette.
The Gestalt X10 retails at $1299, while the Gestalt X11 costs $2199.
Add an X and the Gestalt gets a lot more extreme. Marin describes the Gestalt X as "the mountain biker's drop bar bike". It appears built for the task.
Like the Gestalt series 3 frameset, the Gestalt Xfeatures a 6061 aluminum frame with internal routing, 142x12mm thru-axles, flat mount disc brakes, and rack and mudguard mounts. However, tyre clearance is far more generous, with room for up to 700 x 42mm or 650c x 47mm tyres.Marin say the geometry is tuned for "more adventurous riding", achieving this with a slacker headtube angles lower bottom bracket and a longer wheelbase.
Both the X10 and X11 versions bikes run 1x chainsets with the 10 and 11 signifying the number of gears on offer. Both pair a 42t chainring with a 42t cassette to offer you a gravel-friendly climbing gear ratio of 1:1. Similarly both the X10 and the X11 are fitted with 700c wheels and 37mm rubber. The differences? The higher specced X11 uses a mix of FSA and SRAM Rival 1. It also features hydraulic brakes and comes with a dropper post as standard.
Named after a Marin County area famed for its trails, Nicasio is the brand's Beyond Road steel bike. Using a 4130 CrMo frame gives it plenty of versatility and appeal, ideal for on-road endurance, light touring and exploring gravel tracks.
There are two updated models for 2021, the Nicasio 1 and the Nicasio 2. The 2 features a few frameset upgrades, notably lighter tubing, thru-axles, flat mount brakes and a tapered headtube paired with a carbon fork. Both frames have full mudguard and rack mounts, and two to three bottle bosses.
The Nicasio line-up also features some additional builds. These include the Nicasio + and the Nicasio Ridge, with the latter specced with a 1x drivechain, a dropper post and 650b x 47mm tyres. Regardless of the model, the shared geometry points to a stable ride: the lengthened chainstays are notable, helping to create a longer wheelbase than on either of the Gestalt models.
Marin has adopted the name of one of San Francisco's most iconic streets for its urban drop-bar bike that they say is rugged, reliable, and a bike that will excel within the city limits, while still being more than capable of escaping them.
Currently, there are two builds in the Lombard range, both featuring a Series 3 aluminum frame. The Lombard 2 gets a carbon fork with thru-axles while the cheaper Lombard 1 sticks with aluminium. Both bikes feature disc brakes - mechanical on the 1, hydraulic on the 2 - and have a tyre clearance of up to 700 x 45mm. Its credentials as both commuter and light tourer are enhanced by its full quota of rack and mudguard mounts.
Both the Lombard 1 and 2 utilise a 2x drivechain, and the gearing range is what you'd expect from a typical road compact set-up. With the bike aimed at longer commutes as well as weekend riding, this gearing choice should make sense for most.
Marin's Four Corners model aims firmly at those in search of adventure. It's a rugged steel-framed touring bike, ready to carry everything, possibly even the kitchen sink. It's definitely perfect for commuters, no arguments needed.
The Utilitour 4130 CrMo frame and forks are home to six bottle mounts, rack and mudguard eyelets and 'lowrider' fork mounts. The geometry is dialled in accordingly; its generous stack height promotes all-day comfort while its long chainstays and wheelbase offer the stability needed for a fully-loaded bikepacking expedition, both on- and off-road.
Marin say that the Four Corners geometry is "based on biometric fit data". The result is five different frame sizes - XS - XL - and with size proportionate 650B or 700C wheels. Other specifications are what you might expect for a bike of this nature: the 2021 model features a touring-friendly triple-chainset that provides the wide gearing range that you need for loaded touring. On-the-go repairs are made easier thanks to mechanical disc brakes and external housing throughout.
Thank you for reading 10 articles this month* Join now for unlimited access
Enjoy your first month for just £1 / $1 / €1
*Read 5 free articles per month without a subscription
Join now for unlimited access
Try first month for just £1 / $1 / €1
Luke Friend has worked as a writer, editor and copywriter for over twenty years. Across books, magazines and websites, he's covered a broad range of topics for a range of clients including Major League Baseball, the National Trust and the NHS. He has an MA in Professional Writing from Falmouth University and is a qualified bicycle mechanic. He fell in love with cycling at an early age, partly due to watching the Tour de France on TV. He's a passionate follower of bike racing to this day as well an avid road and gravel rider.