Tech of the week: sparkly new pro kit, trends for 2018 and how to get fitter
This week, we've been eyeing up the new pro kit we'll be getting used to seeing this year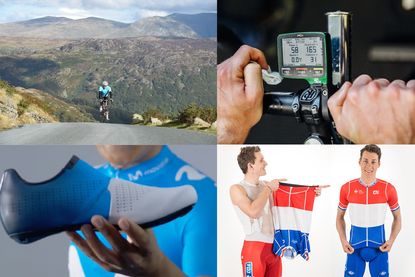 2018 WorldTour team kit
With the Tour Down Under just around the corner, there's been a continuing flow of pro news this week.
Movistar have given us a closer look at their new light blue frames for their Canyon bikes for 2018, with a fade to black at the rear. There are custom blue and black Campag wheels to match. Also matching are the team's custom Fizik R1 Infinito shoes, the result of a new partnership with the Italian shoe brand.
Another team with new wheels and shoes for 2018 is Team Sunweb, which will be using new offerings from bike sponsor Giant.
Movistar's Canyon and Sunweb's Giant bikes also feature in our full run-down of the bikes which the WorldTour teams will be riding in 2018.
And of course, with new bikes come new team kit colours. As January kicked in, there was a burst of tweets from the pros showing off their new outfits. And of course, we've had our own rating of the fashion fest too.
One rider who got a rapid 2018 kit upgrade was Fabio Aru. Initial shots of his Italian Champion's jersey in his new UAE Team Emirates colours showed the Italian tricolour relegated to his belly, below a much larger sponsor's logo. Subsequent tweets showed the Italian flag much higher up Aru's chest, with the UAE Team Emirates logo dropping quite a few font sizes.
Real world riding news
All those pro tweets showed riders pedalling around in warm, sunny, scenic locations. But back in the real world, we've been telling you how to ride in the wind. We've also given you 13 tips for riding faster in 2018, including braking less. Or if the great outdoors is all too scary, you can always hook the turbo up to a training app. We've looked at the pros and cons of some top options.
We've got more technical in our fitness advice too, with a series of training plans to keep your winter fitness or add some speed. And we've told you what your Functional Threshold Power is and how to measure it, as well as getting tips from Britain's top time triallists on how to ride faster.
You might need your new-found fitness if you want to ride any of our eight hardest sportives in the UK. Mind you, you may find you're rubbing shoulders with some famous names – Jason Kenny took to riding sportives and cyclocross, to regain his love of cycling after his success at the Rio Olympics.
Also this week, we've highlighted what we think will be the five biggest bike trends for 2018 and given you our pick of the hottest products for this year.
We've also had our pick of low-priced bikes, starting at £260, seven January sale bargains and Sunday Trading to tempt you to a post-Christmas splurge.
Thank you for reading 10 articles this month* Join now for unlimited access
Enjoy your first month for just £1 / $1 / €1
*Read 5 free articles per month without a subscription
Join now for unlimited access
Try first month for just £1 / $1 / €1