Where can I buy Continental GP5000 road tires this Black Friday?
We take you through all the best deals on Conti's flagship rubber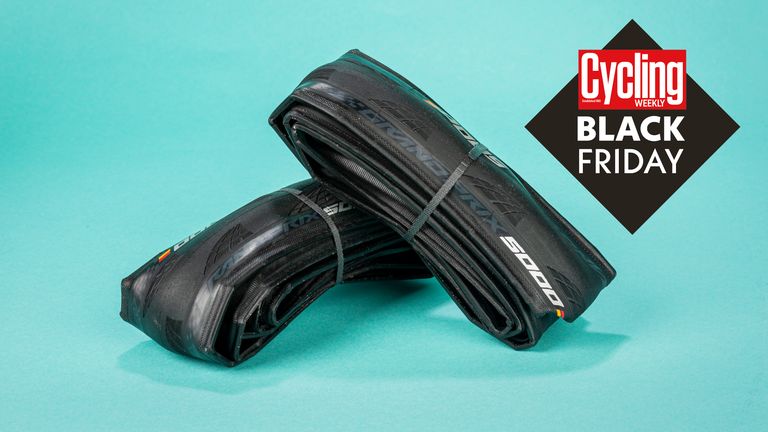 (Image credit: Future)
As the Black Friday deals 2021 start to reach their crescendo, all the very best discounts have been rolling in.
Continental's flagship GP5000 tires are a real firm favourite here at CW. We found they lived up their hype in our first review after their launch back in 2018. Since then – as the stock tire of choice on many performance bikes – we've continued to plough miles into numerous sets.
It takes a very delicate balance to make a truly great road tire. Take lowering the weight and rolling resistance too far and the result is continuous punctures and lack of grip on the corners. But go too tough and grippy and the ride just becomes laboriously slow.
But Continental with its GP5000 has managed to thread the needle just so. They are certainly performance tires – designed for racing and fast riding – but they are also durable, grippy and puncture resistant enough to be ridden throughout the whole season. It's not just a race day special.
We have a full guide to the best bike tires, if you're after more information and comparison between models. Or, if you're after our full span of deals, you can visit our Best Black Friday Bike Deals page just here.
Otherwise, read on for where to find the best discounts on Continental GP5000 tires this Black Friday.
Best Black Friday Continental GP5000 deals quick-links
USA quick links
UK quick-links
Where to buy Continental GP5000 tires USA
With the GP5000 tires proving such a hit, Continental has continued to add many different models to the range to suit the needs of as wide a range of people as possible.
The flipside of this, however, is that it can be a bit confusing exactly which tyres are the right ones for you. We'll explain the benefits and use cases for each of these deals so you don't choose the wrong one.
Where to buy Continental GP5000 tires UK
That's all for now, keep checking back for more deals
Thank you for reading 5 articles this month* Join now for unlimited access
Enjoy your first month for just £1 / $1 / €1
*Read 5 free articles per month without a subscription
Join now for unlimited access
Try first month for just £1 / $1 / €1
Starting off riding mountain bikes on the South Downs way, he soon made the switch the road cycling. Now, he's come full circle and is back out on the trails, although the flat bars have been swapped for the curly ones of a gravel bike.
Always looking for the next challenge, he's Everested in under 12 hours and ridden the South Downs Double in sub 20. Although dabbling in racing off-road, on-road and virtually, to date his only significant achievement has been winning the National Single-Speed Cross-Country Mountain Bike Championships in 2019.
Height: 177cm
Weight: 67–69kg