Best Cyber Monday bike deals 2021: New offers unveiled in the final hours of the sale
Black Friday is dead - long live Cyber Monday! We've rounded up over 100 deals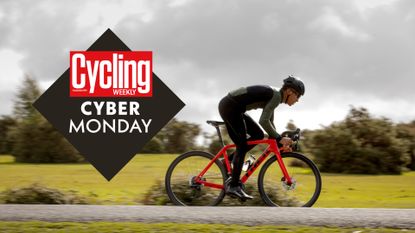 (Image credit: Future)
Cyber Monday - the final sales opportunity within the Black Friday period - is drawing to a close. The annual discounting binge takes place on Monday, November 29 in 2021, and it's the last opportunity for cycling retailers to pump out the best Cyber Monday bike deals to maximize this pre-Christmas sale.
Wahoo, for example, launched a new offer for US customers - including 20% off Speedplay pedals (opens in new tab), and REI's new Cyber Week sale includes a selection of tantalising new discounts. Meanwhile, ProBikeKit is offering a 'PowerHour' final sale in the US, (opens in new tab) whilst UK shoppers get an extra 10% off new Cyber Monday deals with the code CYBER10. (opens in new tab)
Black Friday, and its sibling Cyber Monday, have become known for dubious tactics - with retailers often labelling deals as being part of the event, even if they were the same price or cheaper earlier in the year. So, rather than present you with hundreds of offers, we've sifted through endless offers to find the very best Cyber Monday bike deals of 2021.
These are offers on products that we really recommend. We can't guarantee that they're the cheapest they've ever been (though we have some decent software to check they weren't cheaper a month ago), but all of our deals are on kit our experienced tech team would buy themselves at this price.
Because these deals are good, they're likely to sell out. We'll groom this page daily, to keep the offers fresh.
Where are the best Cyber Monday deals for cyclists in the US?
We've scoured the internet for the Cyber Monday deals for cyclists in the US, and we found the best deals at:
Where are the best Cyber Monday/Black Friday deals for cyclists in the UK?
Looking for a Cyber Monday/Black Friday bike deal in the UK? These are are go-to retailers.
Best Cyber Monday bike deals: US Stars
Best Cyber Monday clothing deals: US
With the colder months approaching for many of us, now is a great time to find a deal on winter clothing. You'll also find clothing on some of our retailer hubs, such as the Best Cyber Monday Wiggle/Chain Reaction Cycles deals, Best Cyber Monday Competitive Cyclist deals, and Best Cyber Monday Jenson USA deals.
Best Cyber Monday shoe deals US
Best Cyber Monday helmet deals US