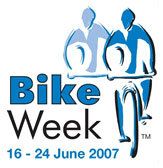 Get in gear for this year?s Bike Week (16-24 June), the UK?s annual celebration of cycling.
This year more than 1,500 events are expected to attract at least 250, 000 participants. Since the Millennium Festival of Cycling ? Bike Week in 2000 ? the number of Bike Week events (suitable for novice, occasional and lapsed cyclists, has increased every year.
Bike Week coordinator Nick Harvey, said: ?The key change has been getting local authorities to take notice and promote events. Before that it was all down to campaigners and CTC. Now there are 250 councils, 170 major employers and 100 educational establishments actively promoting Bike Week events each year.?
If you?re looking for an event to participate in, try a ?Pedal with the Parcs? event. The next rides are at Sherwood Forest on Sunday 17th June, Whinfell Forest, Cumbria on Sunday 24th June and Elveden Forest on Sunday 1st July. You can enter in advance via www.pedalwiththeparcs.co.uk or on the day at the ride of your choice. The challenge rides start at 10am and the family fun rides at 12 noon each day.
For details of more events check out www.bikeweek.org.uk