Vic Sutton: British climber who was ahead of his time
In the golden era of cycling, one talented British climber proved he was ahead of his time in pursuit of the KoM crown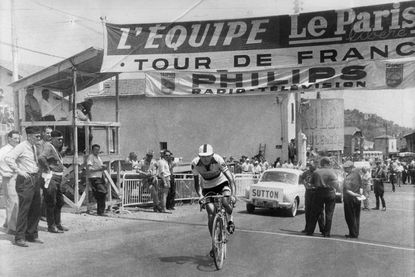 It's 1959 and only four years since the first British rider finished the Tour de France. It's only 16 years ago a proper road race was held in Britain during the war. It was a long time before road racing could establish any sort of foothold.
But here we are on the 10th stage of the Tour de France, and a British rider is leading a select group up the Col du Tourmalet.
The group comprises some of the biggest names of the day: there's the 1957 Tour winner Jacques Anquetil, the 1958 winner Charly Gaul and Federico Bahamontes, who will win the race in 1959. It's a crucial moment in the race, but the Brit isn't who you might think.
It's not Brian Robinson, Tom Simpson or Barry Hoban — the first wave of British cyclists who made it in the pro peloton. It's a carpenter from the flatlands east of Doncaster.
>>> Barry Hoban recounts his fight to place third in the 1972 Paris-Roubaix
His name is Vic Sutton, and you probably haven't heard of him. But if he'd had his career today, he could have been the King of the Mountains.
An ambitious journey
Sutton was one of a trio of ambitious racers who travelled to France in a wartime ambulance in February 1958. The others were Tony Hewson, from Sheffield, and John 'Jock' Andrews, from South London.
After an adventurous five-day journey south they arrived at a campsite near Menton, and the ambulance became their home. Hewson wrote about their life in exile — which is what moving to France was back then — in a wonderful book called In Pursuit of Stardom published by Mousehold Press.
Hewson, the 1955 Tour of Britain winner, had lived and raced in France with John Andrews in 1957. They were good all-round riders, and Andrews had a very good sprint. Between them they won enough to get by, shone in races like the Tour de l'Ouest, which doesn't exist now, but had the same status as the Critérium du Dauphiné.
Sutton was the youngest of the trio who went in 1958, and the least accomplished. He'd done OK in British races, but his ability would never come through in the UK, and he must have known that.
>>> Retro tech: Brian Robinson's Tour de France stage winning bike
Pale, fair-haired and slightly built, if you'd held Sutton up to the light, you'd have seen his bones. It was only in the mountains of the 1959 Tour de France where he showed he was special. And even then he struggled before the mountains.
Sutton and Hewson had returned to France early in 1959 without Andrews, who by then had earned a pro contract for Mercier-BP, the equivalent of a WorldTour team today.
They joined up with another Yorkshire rider, Alan Huntingdon, and bought an oil-guzzling pre-war Wolseley 12 they called Rosy, and a caravan.
>>> 50 years since Vin Denson's historic 1966 Giro d'Italia stage victory
The caravan became their home, this time based in the Charente, and Sutton and Hewson were selected for the International team for the 1959 Tour de France.
Life on the road
Les Nomades du Velo Anglais — that's what the locals called Andrews, Hewson and Sutton when they lived in France. They camped where they could, using official sites, and some not so official ones.
>>> 'Legs up, laptop out, nothing else to do': Behind the scenes at the Tour de Suisse (video)
They were often mistaken for gypsies, who many people in 1950s rural France deeply distrusted. And Andrews and Hewson were once arrested on suspicion of being terrorists.
Tony Hewson explains: "That was the year before the ambulance, when Jock (Andrews) and I had been living in the South of France. After a while we ran out of money, so tried to get a place in a Paris cycling club, but while travelling there our bus was stopped at a police roadblock.
There were a lot of roadblocks then because of the fear of terrorist-type attacks, due to what was happening in the war of independence in Algeria, which was a French colony.
>>> Trailblazers: The exceptional women who changed UK cycling
"We told the police we were going to Paris, and they didn't like that one bit. They didn't like our story that we were racing cyclists either. And they definitely didn't like it when they saw the visas for communist bloc countries I had in my passport. I had them because I'd ridden the Peace Race, which was run behind the Iron Curtain, but the police decided it meant we were communist-inspired terrorists.
"We were about to be kept in custody when Jock remembered he had a copy of the newspaper Nice-Matin and in it was a picture and write-up from the Grand Prix Sigrand, where I'd finished third and Jock was fifth. When they saw that, they let us go."
It was Hewson's idea to use an ambulance the following year. He said: "I saw an advert in the local paper that said a breaker's yard near Chesterfield had 'ex-army ambulances in tip-top condition'. So I went and after some haggling it was mine for £75."
>>> How they used to train: Eddy Merckx's chain gang
His next job was a crash course in crash gearbox changes. If you don't know what a crash gearbox is you don't need to know because it's too complicated to explain. Suffice to say they were tricky. Once mastered, Hewson drove the ambulance to Thorne, near Doncaster, where Sutton used his carpentry skills to covert the insides to living quarters.
Before Hewson left, he passed on a curt message from Jock Andrews: "Right, Noah Sutton, you've six weeks to build us an Ark."
Don't let age slow you down
A different era
The Tour was for national teams back then, but only four nations were able to field the 12-man teams: France, Belgium, Italy and Spain.
The Netherlands and Luxembourg joined forces to make a team, as did Switzerland and Germany. That meant a field of 72, not enough for the Tour. Luckily, France had a surfeit of good riders, so three French regional teams were invited.
>>> How they used to train: Tour de France in the 1930s
But there were still some European riders left who were good enough to ride the Tour so they formed the International team. It consisted of the four British riders Andrews, Hewson, Brian Robinson and Sutton, Irishman Shay Elliot, two each from Austria, Denmark and Portugal, and one Pole.
"There was no Grand Départ in those days," Tony Hewson recalls. "We lined up for team pictures just before the start. It was pouring with rain, so we all had clear plastic capes on. Then amid police whistles and the revving of engines, we huddled together on the start line. A tricolour ribbon was stretched across the road. The mayor of Mulhouse cut it, the spectators all shouted "allez a Metz!" and off we went, heading for Metz."
>>> Going the extra miles: how to train for and complete an ultra-distance sportive
Sutton is no longer with us now, but this is what he told Cycling 40 years earlier about the first week of his first Tour.
"I knew it would be hard. Racing in France is harder than in Britain, but this seemed much harder than I expected. I crashed on some wet cobbles, and ended up well down. I had cuts on my elbows and knees, and a mammoth bruise on my thigh. Next day I punctured. I had a head cold, then sinus trouble. When we got to Bayonne [stage nine] I was 109th overall, 49 minutes down. The next stage was 207 kilometres, and I hung on for all 207 of them. Then, on the rest day, my head cold went and my health improved."
>>> Peter Graham: The man who raced and beat five world champions
His contribution to the race improved too. "I never had a plan," he told Cycling. "The field split into about a dozen groups going up the 6,973ft of the Tourmalet, and I jumped from one to the other until I reached the front."
Flying to the top
Brian Robinson remembers that: "Vic suddenly appeared alongside me in the leading group. He stayed there for a while then said to me: 'Right, I'm going to show these so-and-sos now'. I'll not say what he really called the other riders.
>>> Beryl Burton: British Legend
"Then he said: 'They've hammered me on the flat so now I'm going to show them'. And he did. He left us just like that, and flew off up the mountain."
A few minutes later Sutton appeared in the front group, a skinny pale ghost next to the suntanned giants of cycling. Gaul and Bahamontes, the two legendary climbers, the 'Angel of the Mountains' and the 'Eagle of Toledo' respectively, went ahead, but Sutton crossed the summit just behind.
He led Anquetil, Roger Rivière and the world road race champion, Ercole Baldini.
Sutton's natural gift was all he needed to climb, but he needed experience for the descents, and he had none. He was dropped going down the Tourmalet, then passed by a number of riders, but he'd made his mark.
>>> Tom Simpson: A life in pictures
French journalist René de Latour wrote: "In the mountains Sutton came into his own. He has got that mysterious something he was born with, the ability to climb big mountains. He is not yet a complete roadman; he sprints quite well, but is weak against the watch. But an Englishman who is a star in the mountains is something new on the Continent, and a successful future is assured for the ex-Doncaster carpenter."
Just out of reach
Sutton repeated his awe-inspiring mountain catch-up act in the Alps, going almost from the back to the front group on stage 17 to Grenoble.
"I got within 50 metres of Gaul on the Col de Romeyère," he told Cycling. Gaul won the stage, while Sutton fell back on the descent and ended up in the chasing group, just over three minutes behind the Luxembourg rider.
>>>From Burton to Armitstead: Britain's road race world champions
Still, consistent climbing at the level of Tour winners like Jacques Anquetil and Louison Bobet, brought Sutton 37th place overall and a full pro contract with Liberia-Grammont for 1960. He finished fifth overall in the 1960 Tour de Suisse, his best result, because a few weeks later Sutton was out of cycling.
After another torrid time on the flat, he came into his own again in the mountains of the 1960 Tour de France, finishing with the favourites on the Pyrenean stage to Luchon.
Before the race the French magazine Miroir Sprint had said in its Tour de France preview: "If only Sutton could descend like he climbs, we will have found a successor to (Charly) Gaul."
>>> The secret life of a soigneur
But Sutton never got the chance to improve his descending skills. He collapsed a few days later after a tough stage in the Alps, and was taken to hospital. After tests were done, the doctors told him he had a heart problem, and he should never race again.
The chance to build on his natural ability had gone, perhaps due to the hardship he endured trying to break in. Sutton never raced as a pro again, but he loved cycling, and he really missed racing.
Eventually, he made a comeback in the 1990s in the 60-plus age group. Sadly he died while competing in a veterans' race in 1999, when his heart finally gave out.
Thank you for reading 20 articles this month* Join now for unlimited access
Enjoy your first month for just £1 / $1 / €1
*Read 5 free articles per month without a subscription
Join now for unlimited access
Try first month for just £1 / $1 / €1