Six hidden gems at the London Bike Show
We've scouted out the not-so-obvious around the London Bike Show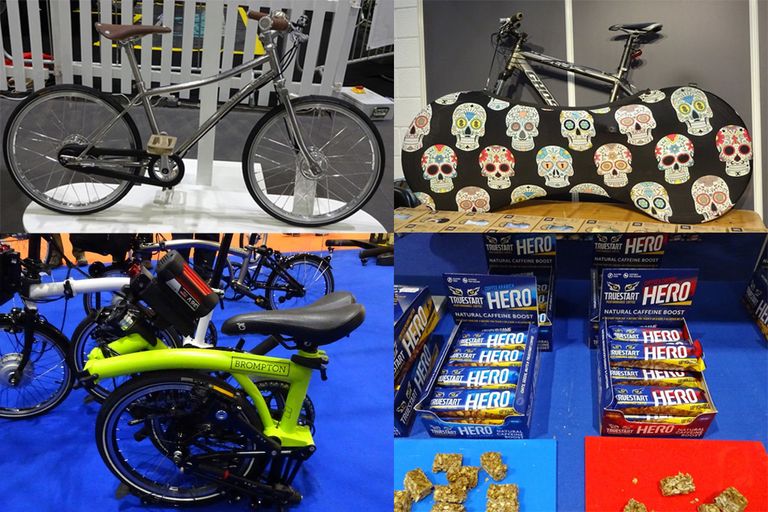 You can get a bit mesmerised by the sheer scale of the London Bike Show, with multiple aisles running the length of the ExCel exhibition hall. And even getting from one end to the other can seem a bit of a trek. So here are our highlights of what we found lurking in the less frequented corners of the show.
Biotic Bikes makes its frame tubes of cured bamboo and wraps the joints with carbon fibre. It says that bamboo gives very good shock absorption and its frame weighs about the same as a good quality steel machine.
>>> Seven must-see superbikes this weekend
Manhattan Portage seems to have a bag for the urban cyclist's every possible need, from huge load luggers downwards. We rather liked its bijou saddle pack with a reflective waterproof zipper.
>>> Essential commuting clothes for cycling to work
To give your Brompton a bit more zip as you head into the office, ARCC Innovations has put an electric motor in its front hub. It's powered by a removable Bosch power tool battery pack – a quick and inexpensive solution that can be taken off to let you ride an almost-standard machine when you're feeling less need for a push.
>>> The top five electric bikes of 2017 (video)
Islabikes' Imagine project aims to produce a bike which can be returned and reused, with its components reusable and fully recyclable at end of life. Its prototype bike is made of Sheffield stainless steel so there's no need for paint and includes pedals made of rice husks. Islabikes says it still hasn't found sustainable solutions for tyres and lights though.
>>> Islabikes Rothan balance bike review
If you're forever getting oil and muck on your new rug when your pride and joy comes in to sit against the bedroom wall, then Velosock's bike cover may be your thing. It slips over your wheels and keeps your bike off the Persian carpet. It comes in a range of designs including these skulls.
The coffee stop is part of the ritual of a recreational ride, but Bristol based TrueStart has taken coffee replenishment en route a step further by incorporating a healthy slug of espresso in its Hero bars. They come with additional flavours like beetroot and cherry built in. This may make café stops redundant.