Sportive bikes under £1000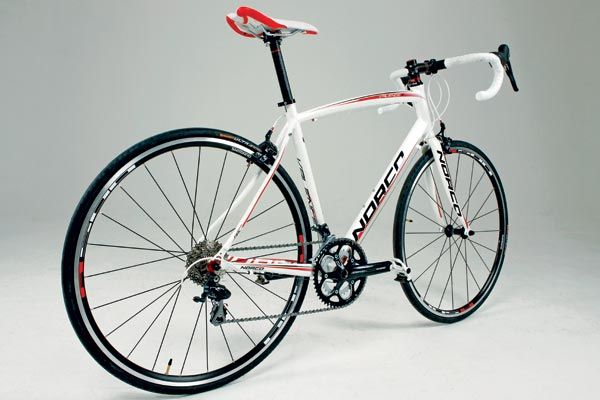 Summary
Four bikes that will help knock out the miles, all under £1,000
Products
Norco Valence, sportive bikes
Four bikes that will help knock out the miles, all under £1,000
£949.99
Score
Jamis Ventura, sportive bikes
Four bikes that will help knock out the miles, all under £1,000
£949.99
Score
Cannondale Synapse, sportive bikes
Four bikes that will help knock out the miles, all under £1,000
£949.99
Score
Dawes Century, sportive bikes
Four bikes that will help knock out the miles, all under £1,000
£999.99
Score
Verdict
I?m starting to feel a little guilty doing these bike tests because I haven?t really had a pop at a sub-par bike for ages. I don?t think that?s just me getting soft: bikes from around £500 upwards simply are getting better and better, and it?s increasingly hard to find a duffer. On that note, I?d be happy to ride a sportive on any of our quartet here. But this is Cycling Active, where commitment to excellence rules
So which is the best? Big bike brands deserve our sympathy. Not only is the expectation level increased by their famous names, but often their ability to create bikes that simply look complete ? like proper grown-up packages ? raises the anticipation even more. That?s certainly the case with Cannondale?s Synapse and had it only been blessed with an average ride it would have felt like a disproportionately crushing disappointment.
Thankfully Cannondale has got things almost perfect. There might be some specification compromises such as only having a Shimano Tiagra gearset, but this a supremely high-quality machine upon which you could base a very long and enjoyable sportive career. Ride quality, control, and power transfer all hit the spot in just the way I think most novice ? and, indeed experienced ? sportive riders would want. In fact, if all aluminium bikes were this good I?m not entirely sure we?d need carbon at all.
Steel here to stay But we?ll always have steel bikes, partly because of their heritage and perhaps more because they just feel ?right?. Certainly the Dawes Century SE carries on the tradition of Reynolds-built bikes with style. I was amazed at how closely the Synapse could match it in terms of rider comfort, but the controllable and relaxed sensation of riding the Dawes is almost peerless. Other components don?t quite match that quality, but this is a bike that will keep you spinning for many happy miles to come.
The Jamis Ventura Race is something of the cuckoo in the nest. Despite overtures towards comfort and a cosseting ride with its relatively high position, curved top tube and those exotic carbon seatstays, it?s actually a very sporty machine. I wouldn?t put it top of this list as a first sportive bike, but as a quick road bike with manners it?s very good.
Finally, we come to the Norco Valence A1, which had the great disadvantage of being tested straight after the Cannondale. I confess, simply from looks I wasn?t expecting it to set the world alight, but my aesthetic prejudices were blown out of the plentiful standing water. It does a fine job at offering a decent long-ride specific aluminium frame with a laudable all-round spec. It was also the most pleasant surprise and for somebody who wants a bike they can fearlessly use for commuting, sportiving, touring or just pootling around on, it?s actually a great option.
Flow and precision Now bear with me, because I?m going to go off on one a bit.
I remember a former Formula One world champion once explaining about what it?s like to drive a racing car at the very top of the business. Rather profoundly for a professional sportsperson, Damon Hill said there was a flow and precision that came with driving fast that felt rather like doing a freehand pencil sketch.
There will be times on sportives when the leisurely luxury of knocking out a quick doodle is the last thing on your mind, but at other times, riding a stable, controllable bike ? such as the Synapse or the Century SE ? feels just about the same. You know exactly what you want to achieve, you pick your line, you try to achieve perfection, and when you get to the end of your ride you see how close you came.
Of course, most of how you perform is down to your heart, lungs and legs. But having the right bike underneath you means your cycling masterpiece could be swooping around the next corner.