Kask debuts its new Utopia aero helmet at the People's Choice Classic
The new helmet was developed in conjunction with Team Sky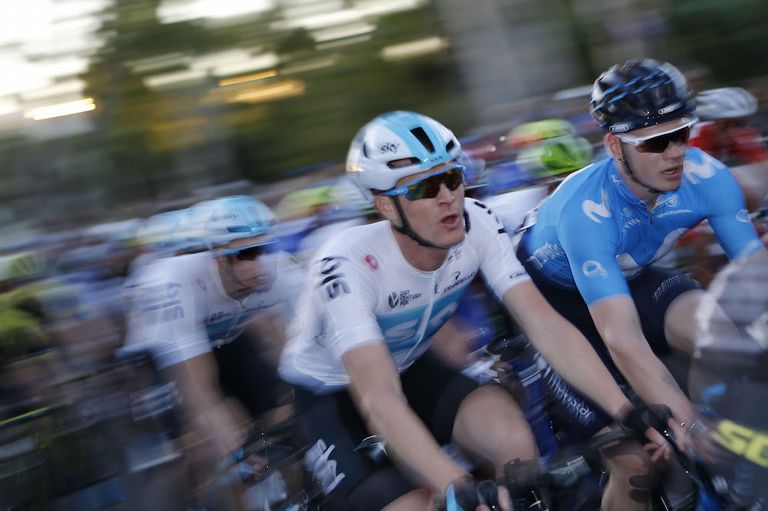 (Image credit: Yuzuru SUNADA)
Kask and Team Sky are using the People's Choice Classic and the Tour Down Under as an opportunity to debut the new Utopia aero helmet.
As is often the case with Kask, the new helmet was developed in conjunction with Team Sky, with Kask saying it has chosen the Tour Down Under to debut the helmet because it best suits the stage profiles.
According to Kask, the helmet is a competitive 235g in a size medium and provides a quiet riding experience thanks to the reduced windrush close to the riders' ears. Kask retains its Octo Fit adjustment system on the new helmet.
Kask also claims that the Utopia enters the aero helmet as the fastest helmet, the result of the extensive testing of the 10 best aero helmets in the wind tunnel.
From there the company says it used computational fluid dynamics to test the lid, producing a helmet that has a saving of 6 watts on the next closest competitor helmet when riding at 50kph.
https://www.youtube.com/watch?v=GSmpTY2s1-o
Carsten Jeppesen, head of technical operations and commercial at Team Sky said "When it comes to aerodynamics there is little that is more important than the helmet, but it's not just about aerodynamics – the safety of our riders is our first priority, and Kask share this philosophy.
"In addition to this our riders need comfort, breathability, temperature management and style, all of which to contribute towards optimizing performance"
To this end a 5mm of Resistex material is used to offer a layer of fast-wicking, quick-dry padding. Whilst Resistex carbon, a highly technical yarn according to Kask, is both heat regulating and respectful of skin. Supposedly, the carbon fibres help speed up the evaporation of perspiration.
The new helmet will be available to buy later this year in three sizes; small (50-56), medium (57-58) and large (59-62).