Best Amazon Cyber Monday cycling deals 2021: 45% on Garmin Watches, GORE clothing and more
We've searched Amazon for deals and found the perfect Cyber Monday money saving offers for cyclists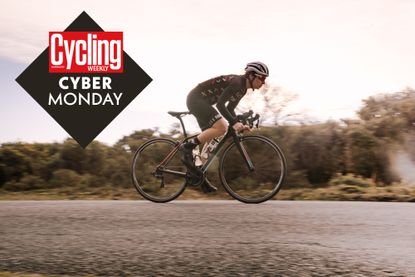 (Image credit: Dan Gould )
Amazon Cyber Monday is go, and the deals haven't stopped coming!
If you think Black Friday was pretty big, and to be fair many of the original Amazon Black Friday bike deals (opens in new tab) are still available, there are lots more are arriving on line for it's Cyber Monday event, which has just started.
The retail giant is constantly releasing fresh discounts for range of products, providing great opportunities if you're in the hunt for a new GPS watch, smart trainer wireless earphones, or even a decent deal on a coffee machine.
Our hub page will be rounding up and sharing all of the best Cyber Monday bike deals (opens in new tab)from all over the internet, but here are our pick of the best discounts from the largest online store in Amazon.
Quicklinks USA
Best Amazon Cyber Monday Smartwatch Deals: US
Best Amazon Cyber Monday Bike Computer Deals: US
Best Amazon Cyber Monday Tech Deals: US
Best Amazon Cyber Monday Component Deals: US
Best Amazon Cyber Monday Clothing Deals: US
Best Amazon Cyber Monday Cyclist Household Deals: US
Quicklinks UK
Amazon Cyber Monday Smartwatch Deals: UK
Best Amazon Cyber Monday Bike Computer Deals: UK
Best Amazon Cyber Monday Tech Deals: UK
Best Amazon Cyber Monday Clothing Deals: UK
Best Amazon Cyber Monday Cyclist Household Deals: UK
Best Amazon Cyber Monday Smartwatch Deals: US
Best Amazon Cyber Monday Bike Computer Deals: US
Best Amazon Cyber Monday Tech Deals: US
Best Amazon Cyber Monday Component Deals: US
Best Amazon Cyber Monday Clothing Deals: US
Best Amazon Cyber Monday Cyclist Household Deals: US
Best Amazon Cyber Monday Smartwatch Deals: UK
Best Amazon Cyber Monday Bike Computer Deals: UK
Best Amazon Cyber Monday Tech Deals: UK
Best Amazon Cyber Monday Clothing Deals: UK
Best Amazon Cyber Monday Clothing Deals: UK
Best Amazon Cyber Monday Cyclist Household Deals: UK