Four road bikes under £1000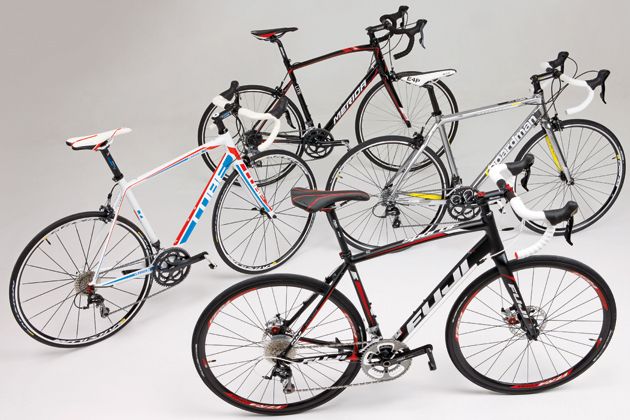 Summary
You've seen the headline, you've probably already memorised the prices, but have a good look at these four bikes. Considering that each one can be bought for less than £1,000 — which is, let's face it, mid-range territory — don't they look amazing?
To some extent, that's both the great luck and the great curse for modern-day new-cycle buyers. Show this line-up, with the prices covered up, to even a bike-savvy mate, and I defy them to be able to put these machines in the correct order of cost. Bike companies know that most people make purchasing decisions with their eyes, and the battle between finishes and complete packages at all price points has never been more intense. The problem is, no matter how good these bikes look, you don't ride with your eyes. Allow us...
First up is the Merida Ride 90, which, at £599.99, is distinguished by being the cheapest of our quartet. Although on first viewing there are a range of influences in the design, all in all, it looks like a pretty standard alloy road bike — it's just that most standard alloy road bike prices don't start with a '5'. As a package, it looks competent, too, with Shimano STI gears and a carbon fork — but is 'competent' enough these days?
If the Merida looks like it'll set a solid baseline for this test, Boardman's new Road Comp ups the ante across the board. The alloy frame is a real beauty, but that attraction goes beyond skin deep, with some inner cable routing and other tasty details. Shimano Sora gears, Tektro brakes and Mavic wheels round out a very exciting package.
The Fuji Sportif 1.1 is the cuckoo in the nest. There are some interesting things going on with the frame, but even more funky things going on with the brakes: namely, a set of Avid mechanical discs. Add to that some slightly bigger-volume tyres and a mainly Shimano 105 gearset and you've got a machine that looks primed to surprise.
And to top it off we finish with something that, on paper, should represent the very best in sub-£1,000 road bikes — the Cube Peloton Race. Like the Boardman, its influences are traditional, but everything is focused around quality, with Shimano 105 throughout, Mavic Aksium wheels, and a fine frame from an experienced manufacturer.
Which, if any, of these modestly priced, good-looking bikes is more show than go? Let's find out.
Products
£599.99
Score
Boardman Road Comp
Boardman Bikes' Road Comp offers a lot for under £700
£699.99
Score
Fuji Sportif 1.1 Compact
Intriguing road offering from Fuji featuring disc brakes, £920
£920
Score
Cube Peloton Race
Cube offers a great all-round package with its Peloton Race, £999
£999.99
Score
Verdict
Usually in a grouptest, I try to find a theme with suitable metaphors to represent the bikes: types of animal, cake, cars, that kind of thing. It's a blatant copy of Top Gear's "if this car was a dog, it would be a Rottweiler" approach. But I'm not going to do that for this test, because these bikes don't need novelties or gimmicks to make them interesting — they are four incredible sub-£1,000 packages.
In fact, at points in the writing of this, I've reminded myself of the middle-aged woman played by Matt Lucas in Little Britain who goes along a police identity parade saying: "Oh, he's gorgeous. Isn't he gorgeous? Oh, he's gorgeous! No it's not him," — before repeating it with the next potential suspect.
Our cheapest bike, the Merida Ride 90, might suffer here from being not quite as gorgeous as the other hunks on test, but it has all the finer details that make modern bikes so exotic. More importantly, it rides superbly, especially up hills. And while the spec isn't a headline-grabber, it's been sensibly put together and works extremely reliably. If you've only got £600 to spend on a first road bike, you'd be very wise to have a look at this.
If the Merida is a fine bike for riders new to drop-bars, the Boardman Road Comp is a fine bike for the more experienced pedaller. As a package, it's worth far more than the £100 price difference over the Merida; the Sora gears, the Tektro brakes, everything is better, and together they form a machine that handles almost anything you ask of it. It also looks stunning, and is quick, accurate and fun to ride. However, the 28t sprocket might be too small for some. Old-schoolers might say it's already a 'soft' gear, but what's the harm in wanting to be able to tackle any gradient readily?
I've mentioned weight as regards the Fuji Sportif 1.1, but it's worth pointing out that lightest is not necessarily best. We talk about pound-for-pound performance quite a lot when testing bikes, and often that refers to speed, sprightliness and accuracy of control, but what about security, reliability, ease and comfort? On those factors, the Sportif 1.1 should be near the top of anyone's shopping list. The perfect year-round training bike? Very possibly.
But let's say sportives are our goal for the year, mixed in with some fun riding challenges — oh, and just getting out and enjoying ourselves. Judging all these bikes by those various criteria, the Cube Peloton Race is perfect. It's not quite as comfortable, by only the smallest fraction, as the Fuji, but in all other aspects it leads or equals its rivals.
Now, did somebody mention the Cycle to Work scheme?
This test originally appeared in the February 2014 issue of Cycling Active magazine