Bianchi Aria revealed: Italian brand extends its aero range even further
Bianchi has extended its aero range even further, releasing a brand new model, the Aria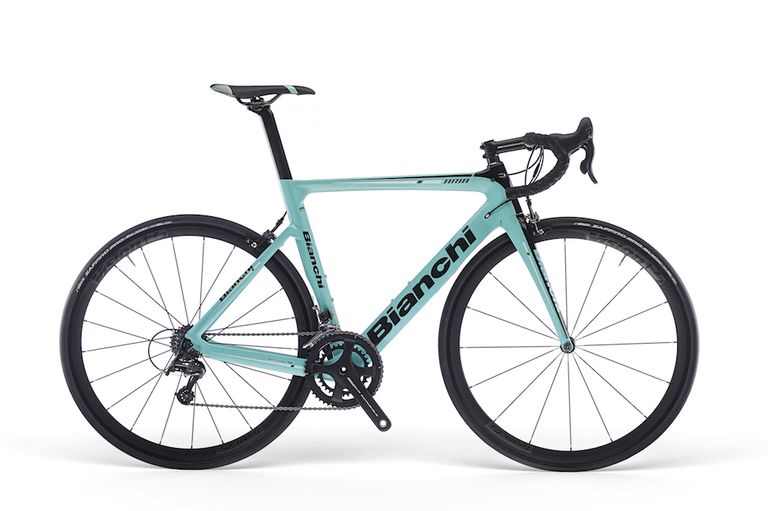 Bianchi touts its latest complete bike, the Bianchi Aria, as a performance orientated road bike, designed to be as aerodynamic and as fast as possible.
According to Bianchi, the "Aria delivers ultimate aerodynamic performance with expertly balanced combination of race-focused geometry and wind tunnel proven design".
To make the bike as aero as possible, Bianchi says it has conducted extensive wind tunnel testing, for both the new ride and its Oltre, TT and TRI Aquila ranges – Bianchi's other aero bikes.
>>>Campagnolo welcomes back its Centaur groupset... and turns in up to 11
To this end, Bianchi has dedicated its energies into creating geometries that put the rider in the most aggressive tuck position possible.
The new Aria has a head tube length of 140mm in a medium and a stack height of 541mm, numbers that are nigh on identical to its Oltre XR4 model.
In fact, it is so confident of its aero capabilities it states the Aria can be easily adapted for triathlon events.
>>> Bianchi Specialissima review
Bianchi says a TT position couldn't be easier. According to the brand, simply clip on your tri bars, set the stack height as well saddle height and angle and you'll be good to go.
Watch: Which aero bike is fastest
The fork integrates with a tapered head tube and the down tube for improved aerodynamics, but Bianchi hasn't integrated the stem, bars and head tube, as it does on its Oltre models.
Similarly, the new bike comes with an aeroseat post with both an integrated seat clamp and a cut away for the rear wheel in the seat tube.
The brand says the frame's tubing has seen extensive testing in the wind tunnel and is also compatible with both mechanical and electronic groupsets. Complete internal cable routing is possible.
The frame weighs in at 1.1kg, although Bianchi allows for plus or minus 5% and there will be eight different sizes, from a 44cm to a 61cm. There is currently no word on prices or specifications, although the model photographed is using Campagnolo's new Centaur groupset.