Sunday trading: £800 off Shimano Dura-Ace, discounts on power meters and much more
Give your bike some love or revamp your wardrobe with these great online deals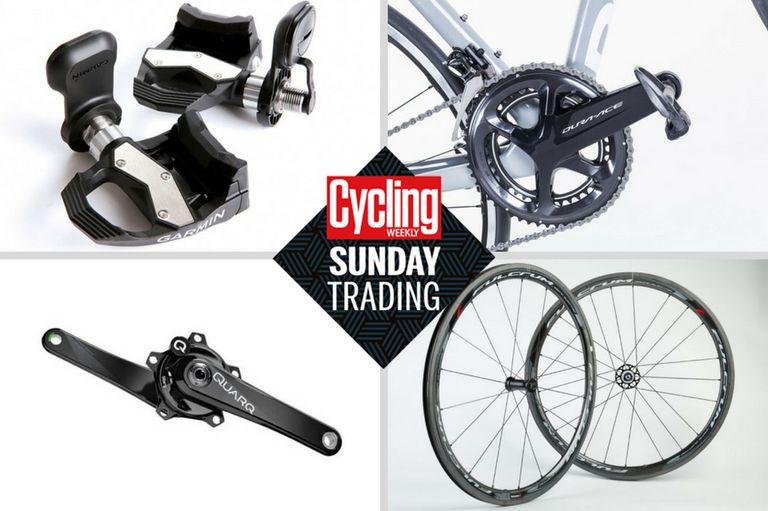 Welcome back to Sunday Trading and this week we've found some characteristically killer deals for your perusal. There's two different sets of Fulcrum bike wheels because they seem to be in the sales everywhere at the moment. One's aluminium, one's carbon, both are good – we've reviewed them. Then there's a stonking 47% off Shimano Dura-Ace that brings the mechanical version a sniff below £1000. Then we round out with two different power meter deals! Oh lucky days.
The products featured have been chosen because we know they're good quality and are an excellent offer at the price we've included (at the time of writing). Our tech team have unrivalled expertise and years of experience testing new products, so you can trust our recommendations – and we also know what represents a good deal. Where we've reviewed the product we've included a link to it so you can read more.
With each product is a 'Buy Now' link. If you click on this then we may receive a small amount of money from the retailer when you purchase the item. This doesn't affect the amount you pay.
Fulcrum Racing Zero Nite wheelset was £1099, now £829.99
Read more: Fulcrum Racing Zero wheelset review
Read more: Road bike wheels buyer's guide
The Fulcrum Racing Zero wheels are the tip of the top in Fulcrum's aluminium wheel tree. Yes, they're made of metal but that doesn't stop them being a killer pair of upgrade wheels. Admittedly, you can buy cheap carbon wheels for a similar price but with carbon you have worries about the braking and ruining the brake track.
In fact, with the Racing Zeros we found that the hubs were impressively smooth with their ceramic bearings and that these are really good all rounders with a bombproof build. They're fast to accelerate and they sit at speed very nicely. The Fulcrum racing Nites on sale here are a little different to the ones we had in that they have a stealth black design but overall, they're a quality wheelset.
Buy now: Racing Zero Nite wheelset at Tweeks Cycles for £829
Fulcrum Racing Quattro C17 wheelsets was £1,199, now £824.99
Read more: Fulcrum Racing Quattro carbon wheelset review
These Fulcrum wheels are carbon and 40mm deep, with that extra depth giving them a nice aerodynamic advantage over shallower wheels. They're a touch difficult to accelerate but once they're up to speed they hold it very well and it's all in the stiff carbon rims which transfer your energy into movement very well. They're designed to work with wider tyres that also help take some of the sting out of the ride. These are disc brake specific (rim brake deal below.)
Buy now: Fulcrum Racing Quattro C17 disc brake wheelset at ProBikeKit for £824.99
If disc brakes aren't your thing then you can get the rim brake version for a tidy £230 discount at Tweeks Cycles – they now cost £869 down from £1099. Check out the deal here.
Shimano Dura-Ace R9100 was £1874.99, now £999.99
Read more: Shimano Dura-Ace review
This enormous deal on Shimano Dura-Ace is very exciting – especially if you're looking for the best of the best for your bike. We reviewed Shimano Dura-Ace and gave it 10/10 and couldn't really fault it. It has the new Shimano look that looks great, incredibly powerful rim brakes with the best modulation and feel on the market and some of the crispest shifting going.
Buy now: Shimano Dura-Ace R9100 at Chain Reaction Cycles for £999.99
Quarq DZero carbon power meter crankset was £769, now £524.99
Read more: Quarq DZero carbon power meter crankset was £796, now £524.99
We've reviewed the Quarq power meter used here and we coudn't help but give it a straight 10/10. It's reliable, accurate and easy to live with thanks to its use of Bluetooth Smart or ANT+ signals for communication. Currently, ProBikeKit has all sizes still in stock so you can get the exact type you need.
Buy now: Quarq DZero carbon power meter was £769, now £524.99
Garmin Vector 2 Power Meter was £999, now £499
Read more: Garmin Vector 2 power meter review
So these are a touch out of date compared to the new Garmin Vector 3 power meter pedals but they are on a 50% discount that makes them a bargain if you want power data on a budget. The most important thing you can do with these pedals is torque them correctly otherwise you might get inaccurate readings. These are dual-sided pedals so you get readings for both legs which makes them more accurate.
Potentially not as slick as newer models on the market but they are an opportunity to get power on the cheap.
Buy now: Garmin Vector 2 power meter pedals at Chain Reaction Cycles for £499
More great deals:
Continental Grand Prix 4 season tyre was £64.96, now £34
Giro Synthe helmet MIPs was £249.99, now from £168.12
Castelli women's Gabba jersey was £140, now from £70
Vittoria Rubino Pro Control tyre was £36.99 now from £21.29
Eurostyle hot embrocation was £14.99 now £10.00
Endura Pakajak women's showerproof jacket was £34.99 now £15.80
Shimano 105 R5800 cassette was £49.99 now from £33.95
KMC X101-93 11-speed chain was £26.99 now £19.20
Selle San Marco Concor racing saddle was £119.99 now £69.99
Kona Zone One road bike was £2499 now £1249.99
Shimano M520 SPD pedals (black) were £30.83 now £22
Continental GP4000S II tyre was £54.95 now 29.99
Endura FS260-Pro Printed short sleeve jersey was £64.99 now from £24.70
Mavic Ksyrium Pro Carbon SLC Haute Route wheelset was £1900 now £799.99
Gore Universal Windstopper leg warmers were £49.99 now £25.00
Look out next Sunday for more great deals!