Chris Froome: An undiminished will to win
The two-time Tour de France champion opens up about the pressures of stardom, the challenges ahead and his undiminished will to win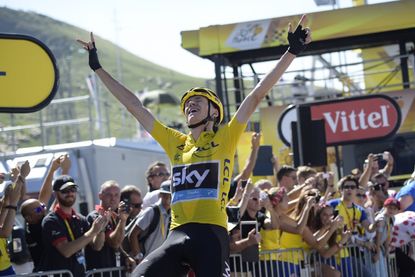 (Image credit: Yuzuru SUNADA)
How many times have you tried riding your bike with one hand on the handlebars and with the other wheeling another bike along with you?
It's tricky, even for someone who spends his or her life cycling. So tricky that when Chris Froome tried it last August to take his road and time trial bikes down to the car wash near his home in Monaco, he fell off.
The tale appeared in last December's report in Esquire about Froome's physiological data (more on that later) where it was a funny little anecdote that explained Froome's grazed knees when he went for testing in August that year, albeit one which was drowned out by the clamour over VO2 max and weight loss.
What made it really remarkable is not that Chris Froome fell off his bike — he has a track record of doing that quite a lot — but that a sport star like him would even consider riding his own bikes down to the car wash to clean them just a couple of weeks after winning his second Tour de France.
Elite cyclists are certainly a long way from enjoying the celebrity status of the world's best footballers, for example, but then Chris Froome is further still from what we expect our 21st century sporting stars to be like.
There's no entourage around him, his agent is simply his wife Michelle, and there's not much ego to speak of either. When he wins he thrusts his hands into the air and beams broadly from ear to ear. When he steps onto the podium, there is no 'pistolero' salute or Paul Weller-esque pouting.
Instead he just wears an honest smile and gives the crowd a cheery wave. Attaining celebrity status, he says, is not his motivation.
"When we're talking about perception — image — it's not necessarily one of my big goals to be recognised or famous," he says. "My goals are very much on the sporting side of things."
Doing the double
The Tour-Vuelta double is the most rare of Grand Tour doubles, having been achieved just twice; by Jacques Anquetil in 1963 and by Bernard Hinault in 1978. On both of those occasions, the Vuelta was in its former slot in mid-April.
Chris Froome has tackled the two races in the same season on two occasions, finishing fourth in the 2012 Vuelta as runner-up in the Tour and then abandoning on stage 11 of the 2015 edition as Tour champion. However he believes the double is still within reach.
"It is tough to race against those guys [specifically targeting the Vuelta] off the back of a Tour de France, but at the same time I don't think it's impossible," he says.
"I certainly felt as if I was coming up through last year's Vuelta and I was certainly hoping for a better second half than the first one. But I guess that's something that's given me a bit of motivation for the future; that's not to say it's definitely on this year's calendar but I'll certainly consider it."
In comparison, the Giro-Tour double has been achieved 12 times (most recently by Marco Pantani in 1998) but Froome believes the test is now much harder to achieve, as demonstrated by Alberto Contador in 2011 and 2015.
"I do think it's possible, but I think it's probably more doable, more realistic, to look at Tour-Vuelta than Giro-Tour, just given that the second Grand Tour that you do consecutively, you're going to have that mental fatigue and you wouldn't have had the best preparation for the second race," Froome says.
"Given that the Tour really is a level above any other race on the calendar, I'd say it would be pretty hard to do."
More to come
According to Froome, there's still plenty of work to do. Despite winning the Tour twice, he would forgive us for saying he is not the best bike rider in the world.
He's not an expert bike handler like Peter Sagan, nor does he exude class like Fabian Cancellara or Sir Bradley Wiggins. In fact he doesn't really look that good on two wheels at all; he sticks his elbows out and stares down at his stem all the time.
>>> Chris Froome on the Tour, training and just why he stares at his stem
"Thankfully when it really comes down to the performance end of things, it's normally 10 or 15km up a mountain where you're going a maximum of 20kph, so aerodynamics aren't a dramatic thing for me," Froome admits. "My elbows do stick out a little bit."
Froome recognises that there is more he can get from himself, not only in terms of his position. There are few in the world in 2016 who can come close to his physical ability as a Grand Tour rider, but Project Froome is not about maintaining his current level; Froome thinks he can get even better.
"Physically I do have some things to improve on, it's always a work in progress," he explains. "I don't think there's a point you can get to and say: 'I'm at my best now.' Unless you're into your late 30s and on the way out, you should be looking to make some gains every year.
"Positioning is always something I can work on. Core stability, I think I can put out more power. Weight, I think I can get it lower; it's something you continuously have got to work on."
It's odd to hear this from a rider aged 30 with two Tours to his name. But remember that Froome came close to losing the 2015 Tour to Nairo Quintana when, suffering from a well-hidden cold, he desperately clung onto the yellow jersey on the final mountain showdown on Alpe d'Huez.
>>> Everesting on Alpe d'Huez… on a Raleigh Chopper
Note also that Froome wasn't necessarily born to ride a bike. His two older brothers both attended an English public school and went on to work in finance. Froome junior is polite, well mannered and respectful; this isn't to say he's the only one in the peloton that is, only that he wouldn't look out of place in a business suit himself.
Former GB national coach and logistics manager Doug Dailey, who spotted Froome racing for Kenya at the 2006 Commonwealth Games and helped him switch to Great Britain, suggests that Froome could quite easily have ended up pushing pencils rather than pedals for a living.
Indeed with his time with the Safari Simbaz club in Nairobi, Kenya, and breaking out of boarding school in South Africa to go riding in the early hours, Froome's sporting background has been anything but traditional.
He even had to break and enter, in an electronic sense, into the Kenyan cycling federation email account to enter himself into the 2006 World Championships in Salzburg.
To briefly go back to the crashes, Salzburg was where he famously rode at full pelt into a commissaire shortly after rolling down the start ramp in the U23 time trial (he also crashed in the neutral zone of stage one of the 2013 Tour — which you may have forgotten about — and twice during the opening stages of the 2014 edition, leading to his withdrawal).
Froome's story has now been well told, but it doesn't bring it any closer to the heavily structured and supported upbringing enjoyed by riders like Geraint Thomas and that current aspiring youngsters in Britain can expect.
"Chris Froome didn't get any of those advantages, which is most probably why he rides like he does," Dailey says. "I'm sure that had he come through our [British Cycling] system we might have tackled those [cycling foibles] in his formative years."
However Dailey believes Froome's time spent unsupported in his own little bubble has nurtured a different aptitude for the life of a professional rider; the ability to do things for himself. This perhaps explains why he takes his own bikes down to the car wash.
"Not only was he a determined and capable bike rider, with some obvious shortcomings in his style of riding, he was also a very intelligent boy," Dailey adds.
"Early on I felt that this fellow would pick his way through the sport and filter out what is appropriate for him and filter out all the rubbish that comes at you. He made his own way very early on."
Froome didn't blossom under the somewhat Dickensian methods of his first professional manager Claudio Corti, the Italian boss of Barloworld between 2008 and 2009, and his race programme didn't help him either; it was limited in terms of stage race days and, in 2008, even included the odd day out at Ghent-Wevelgem, Scheldeprijs and Paris-Roubaix.
Yet regardless of management and programme, just looking at pictures of Froome from 2007 to 2009 tells you that he was a rider who could go considerably faster by simply losing weight and getting a proper bike-fit.
It's a conclusion that has been backed up by that physiological report published in December which, alongside a similar test taken when Froome was at the UCI's World Cycling Centre in the summer of 2007, purports to show that in the eight years to 2015, Froome's exceptionally high threshold power of 419W had hardly changed. What had changed was his weight — down from 75.6kg to 67kg — and his experience.
Olympic dilemma
How do you solve a problem like Rio? Froome went to reconnoitre the hilly and difficult road race course in November during his off-season but, before you even take into account Froome's unenviable track record in one-day races, the Olympics is one of the hardest races to successfully target and win.
>>> UCI confirm Rio 2016 Olympic Road Race and Time Trial courses
"The Olympic road race and time trial are always a little bit of a gamble, especially on the back of a Tour de France," Froome says.
>>> "Chris Froome is favourite for the Rio 2016 time trial, not me" says Tony Martin
Unlike one-day specialists, who can ride the Tour conservatively and tactically, Froome might not be able to emerge from Paris without all his matches burned.
However unlike 2012, which left six days between the Champs-Elysées and the road race in London, this time there is a longer period for him to rest and recover.
Froome even suggests there will be time for a post-Tour, pre-Olympic training block.
"We've got two weeks from the Champs-Elysées until the start of the road race I think," Froome says. "So I think that's enough time to recover and probably get a small training block in before going over to Rio."
Froome dog and the G-man
Froome has undoubtedly come a long way from the naïve, chubby youngster thrown in at the shark-infested deep end of the pro ranks at the end of the Noughties.
However there are still plenty of remaining challenges he has to face in 2016. One of them he has at least tackled before — that of being defending Tour de France champion.
"I was fully aware of this last time but I think going into a winter as the current Tour de France champion can be quite dangerous as you are getting loads of requests to go to different events, different functions, you're getting pulled left and right, everyone wants a piece of you," Froome says.
"The danger there is that you do end up losing focus of what you're really meant to do, which is the training and the actual riding side of things. So hopefully I've learned that lesson before, I've been in this position, I know what it's like and I'd like to think I'm on top of everything in terms of not getting too pulled around."
One challenge that Froome hasn't faced before is that of fatherhood, though before his wife gave birth to his son, Kellan, he did acknowledge that "things were going to be pretty different."
Things will be pretty different on the bike, too. He has lost Richie Porte, his loyal lieutenant, close friend and neighbour in Monaco who was crucial in his two Tour wins, as the Australian joins BMC this season.
Froome believes that Sky still possesses enough strength that another rider — be it Wout Poels, Nico Roche or any of the new signings Benat Intxausti, Mikel Landa and Michal Kwiatkowski — could step up to play Porte's role this year. However Porte's transition from super-domestique to dangerous rival should not be underestimated.
"It's definitely sad to see Richie go, of course he's been a massive part of everything," Froome says. "All in all we've lost a few guys, gained a few guys, but I do think we've got a really, really decent line up for next year."
With Porte's exit, at least 'Froomedog' is the uncontested top dog at Sky. But with his growing confidence and stage race ability, Geraint Thomas has become the young pretender to Froome's throne.
"The way G rode [at the Tour] last year, he definitely needs to be more protected [in 2016] and have a go at the GC himself," Froome agrees.
We ask whether he can feel the hot breath of the Welsh dragon on the back of his neck. Does he think that Sky might become too small to accommodate the talent and ambition of the two of them together?
Would one have to eventually see off the other one, however amicably, as has happened with Porte — and, before that, Sir Bradley Wiggins?
Froome declines to get drawn into that debate, adding tactfully: "It's something that's continuous and maybe in a way we'll push each other a little bit and maybe get a bit more out of ourselves and improve."
Failing the Classics
Chris Froome's track record in the one-day Classics is far from exemplary. His best results are 34th in Flèche Wallonne in 2009 and 36th in Liège-Bastogne-Liège in 2013, though he finished last year's Flèche Wallonne with torn and bloodied shorts over 12 minutes behind winner Alejandro Valverde.
Unlike his rival Vincenzo Nibali — who has won the Tour of Lombardy and finished on the podium in Liège-Bastogne-Liège and Milan-San Remo — Froome has always struggled with the demands of one-day racing: the distance, the narrow northern European roads, and the cut-throat, elbows-out battle for position over six or seven hours.
Despite impressing on stage three of the 2015 Tour, finishing second on the Mur de Huy to Joaquim Rodríguez, Froome is keen to downplay his ambition and chances in the Classics in the near future.
"It's maybe something that is on the cards," he says of a potential Classics tilt this season.
"Of course in the Grand Tour you've got guys with other goals; maybe they're saving themselves for the next day or they've gone deep the day before so they're maybe not on their best on that day. You know at a one-day Classic everybody is going to be at his best for that day.
"Liège is always a race that I've wanted to do and wanted to do well in. I'd love to do well there one day but I've got to keep trying."
French rancour
In a way it's fortunate that Chris Froome doesn't need the fame to spur him on (as for the fortune, a reported £2m deal with Team Sky means he can't be doing too badly out of it, and the thing about living in Monaco is that not much of that will have gone to HMRC).
>>> Comment: Chris Froome's new contract with Team Sky could see him become Tour de France great
That's because there wasn't a lot of love going around in France last summer. The scrutiny, the whispers, the conspiracy theories and the suspicion, not to mention the physical abuse including a cup of urine and a glob of spit; Froome's 2015 Tour was a particularly stressful affair.
Team-mates like Luke Rowe have spoken strongly about the experience, also explaining how it brought the team together, but during our interview Froome remains notably objective.
"Maybe it is that the team is challenging potentially the traditional way things were done in the past and maybe certain people don't like that," he suggests delicately.
The closest he gets to lambasting his accusers is when asked whether he has spoken to Laurent Jalabert, the former rider turned French TV commentator who described Froome's ride on stage 10 of last year's Tour as "out of this world", a highly charged phrase previously used by L'Equipe to thinly veil their suspicion of Lance Armstrong.
"It seemed that every time that I got close to [Laurent] Jalabert after the stages he seemed to move away pretty quickly," Froome says. "When he was asked to comment he also made a pretty quick getaway. It's pretty cowardly; if he's going to make those sorts of comments he should be able to back them up."
>>> Chris Froome hits out at Laurent Jalabert on Twitter over doping insinuation
Froome clearly suppressed his emotions during the Tour, refusing to vent any anger or frustration in public, but he didn't appear to be totally thick-skinned. The abuse, the accusations and the tone of inquisition, did get to him, even if now his feelings have gravitated more towards detached fatigue than raw exasperation.
"I've got to say in the grander scheme of things it was a minority. The majority of support on the Tour and of the team, everything, really has been overwhelming sometimes. But there were certainly individuals along the way who made it clear they weren't supporting us.
"We certainly didn't have any of that at any other events," he explains. "At the Vuelta there certainly wasn't a bad word said; it's a great atmosphere and the fans seem to be cheering for everyone and that's what bike racing should be.
"Just after the Tour we went and did some post-Tour criteriums, a few of those were in France and I've got to say it was just fantastic, the sentiment in France was great after the Tour, even passing through some of the places from the Tour there wasn't a single negative thing said, so it does feel very much like it was a Tour de France thing."
Dominant Tour riders getting abuse — or at the very least a frosty reception — is not a new thing. Eddy Merckx, Jacques Anquetil, Miguel Indurain all won five Tours but were never as popular in France as other riders in their era.
Merckx was even punched in the abdomen on the Pûy de Dome in 1975, what he now jokingly calls his 'French souvenir.' The only rider to have won five Tours and remain popular in the process is Bernard Hinault, and he's French.
"I definitely felt this year that it was an element that made this year's Tour de France harder," Froome says. "Anyone who is human would have felt more under pressure this year.
"In a way, getting those accusations is the ultimate compliment but at the same time I'm certainly not taking it as a compliment," he adds.
"It's unfortunate that's what the yellow jersey wearer of the Tour de France has to put up with. For me, I think, when I'm in that position, if I had something to hide or I had some elaborate scheme going on then it would really bother me, it would be my whole world crashing down.
"But I don't have any skeletons in the closet, I don't have anything to genuinely be afraid of."
During our interview Froome is asked whether he feels the hostility he experienced was down to a French attitude towards an Englishman winning. Froome turns to ask a French journalist for L'Equipe, Alexandre Roos, for his opinion: "I'd be interested to hear, Alex what would you put this down to? Is it winning in a certain way?"
"I would say that there is no anti-Froome sentiment in France, more like an anti-Sky," Roos says. "I think you are quite popular in France. I think it's more about Sky and the way that they arrived in the peloton. In France, the people that run cycling are very conservative."
Cloud of suspicion
No matter how hard Froome might like to try to prove otherwise, there is currently an unavoidable suspicion around the modern Tour de France winner.
The release of his physiological data only served to prove this; Froome's numbers were abnormally high — those of an exceptional athlete. But then he won the Tour de France, so of course he's a physical abnormality.
There are those that say that Chris Froome doesn't look like a true Tour de France winner, with his unorthodox background and gangly style.
But then what does a true Tour winner look like in 2016? After two decades of artificially enhanced Tour performances, the cycling world probably doesn't know the answer to that question.
As for the UK, Froome isn't interested in filling the gap of British Tour winner left by Bradley Wiggins. He says he would like to race more in his adopted home country — a move that would help to boost his public profile — but his message is clear: not if it compromises the Tour.
"I would like to do more racing in the UK. But the times of the races we do get the opportunity to do, such as the Nationals, are just a week before the Tour," he says, almost apologetically.
"It's pretty difficult to go, with races like that, and the Tour of Britain coinciding with the Vuelta, unfortunately."
There is something else he is interested in, and something which would undoubtedly endear him to the British public: a gold medal in Rio. We ask him which one he would choose if he were offered the choice of either definite Tour victory or Olympic gold in 2016.
"That would be…I'd definitely be torn there, that would be a hard decision to make," he says. "I mean, either would just be amazing. I'd be torn."
However there are some things that aren't in doubt. Froome says his motivation, after a crash and a broken foot on stage 11 of last year's Vuelta brought a premature end to his season, is greater than ever.
"It meant I could start focusing on the next season a bit earlier and in a way it's made me even more... it's given me that hunger again," he says of his injury.
"I feel as though I was robbed of something so I feel as though now I really can't wait to get back into it again. In some ways it's maybe not such a bad thing."
And whether or not he succeeds, there's one other thing that we can count on: Froome isn't going to be doing it any way but his own.
Thank you for reading 10 articles this month* Join now for unlimited access
Enjoy your first month for just £1 / $1 / €1
*Read 5 free articles per month without a subscription
Join now for unlimited access
Try first month for just £1 / $1 / €1
Richard Abraham is an award-winning writer, based in New Zealand. He has reported from major sporting events including the Tour de France and Olympic Games, and is also a part-time travel guide who has delivered luxury cycle tours and events across Europe. In 2019 he was awarded Writer of the Year at the PPA Awards.