February's Tech of the Month: new kit from Castelli, Le Col, Smith and Triban
We step into February with number of new products on the market for 2019, along with a rebrand for B'Twin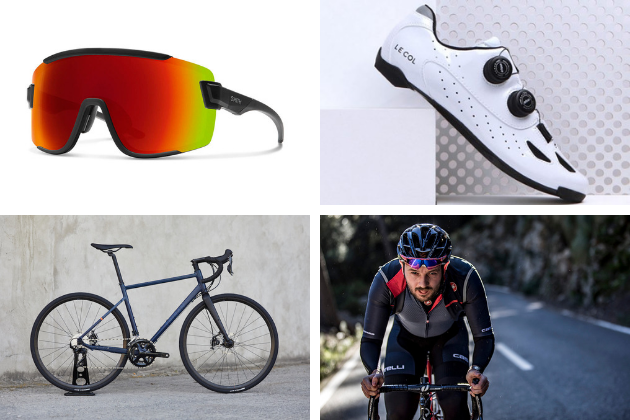 It is nice to see the back end of January for many reasons; mainly because payday seemed so far away. Although, now February has come around we can look forward to some brand new products for 2019.
Le Col Pro Carbon shoes
Only 500 pairs of these shoes are available, which make the new Le Col Pro Carbon Race shoes pretty limited, especially if you are after a pair of kicks that you won't see too many of around on the cycling scene.
These shoes are also only available in three sizes; 43, 44 and 45 so if you are not in that size range, scroll down.
At £250 a pair they are on the expensive side too, but for an exclusive pair of racing shoes it isn't so bad compared to other top-end race shoe.
Castelli bib shorts and jersey
Castelli launched its new short and jersey in January and claim as a package it'll save you 15 watts at 50km/h. Massive claims from the Italian brand who are looking for every marginal gain for Team Sky.
Castelli said that it CFD tested to find the best spots for seam placement on the jersey whilst it added dimples to the shorts to aid airflow. Tech editor Symon Lewis went out to ride the kit in Mallorca in December and said the kit is of course very nice, if a little tight (classic Italian styling).
The good thing here though, is that the kit you buy is the exactly same kit as worn by the pros, so you are getting some proper technical bits of kit.
Smith Wildcat
With a coverage and style inspired by goggles the Wildcat is Smith's biggest eyewear to date. A flexible and comfortable frame and interchangeable lenses lend a huge level of versatility to the Wildcat.
Smith Flywheel
The retro style belies the technology Smith squeeze into the Flywheel. A ChromaPop lens enhances colours to help pick out hazards in the road. An adjustable nose piece helps make the flywheel a comfortable companion for all day riding.
Triban RC520
We have got our hands on the new Triban RC520 which saw the household name B'Twin dropped in place for the former model name Triban.
The endurance range of bikes offer the same great value for money with subtle branding and brilliant running gear, which is now all made in house - apart from the very dependable Shimano 105 groupset.
New tyres and wheels from Triban are on the bike and from testing tech writer Rupert Radley was surprised by a great all round package and a bike that could be something different to who ever buys it; commuter, endurance rider or even someone who will do some light off-roading.