January's tech of the month: BMC Teammachine SLR01, Fizik knitted shoes and Mavic wheels
We run through our favourite tech this month, including Fizik R1 Infinito knitted shoes, Rapha clothing, Mavic Cosmic wheels and a BMC Teammachine SLR01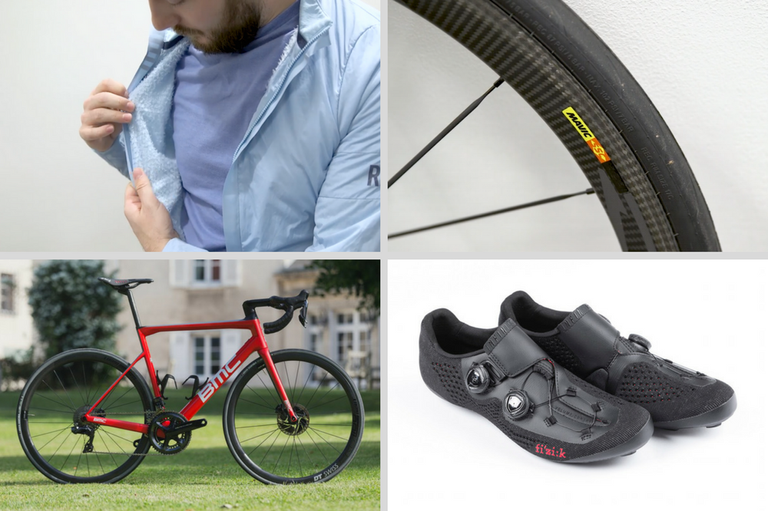 New year, new you, new tech of the month! In case you hadn't realised yet, it's January, but don't worry because we've got a whole host of exciting products for you to check out.
Fizik R1 Infinito knitted
Correction: In the video we stated they were £399, they're £349.99. 
We first saw these debuted are Eurobike and, alongside Giro's knitted offering, they caused quite a stir.
They're designed to be lightweight and for climbing in the hottest conditions but don't let that worry you  – these are DWR treated and water runs straight off them.
Mavic Cosmic Pro Carbon SL UST
The standout feature of the Mavic Cosmic Pro Carbon SL UST is definitely the braking, but the wheels have also been updated (along with all of Mavic's line) to be tubeless ready.
The wheels that we have here come in at £1579 a pair and Oliver has been really impressed.
Rapha Pro Team Insulated Vest and Jacket
This month Tech Editor Symon has brought some super snazzy Rapha kit with him to show off. In particular, he liked the fact the gilet had rear pockets (something of a golden rule for our Symon).
Double layered zips keep both garments insulated and come with Polartec Alpha material which was original designed for the US special forces. Despite its fluffy nature both garments pack down small enough to be squeezed into a rear pocket.
With all this special forces technology it should come as no surprise that both garments come with a typically Rapha price – £160 for the jacket and £140 for the gilet.
BMC Teamachine SLR01
You may have already seen a little bit about this stunner on our website as it claimed a coveted place on our Editor's Choice list for 2017.
As Oliver says, and he was lucky enough to attend the launch, the carbon fibre really makes every pedal stroke feel like you're accelerating forwarded and the whole bike rolls along effortlessly. From now on you'll find us fighting over who gets to ride it.