Best women's gravel bikes for off-road adventures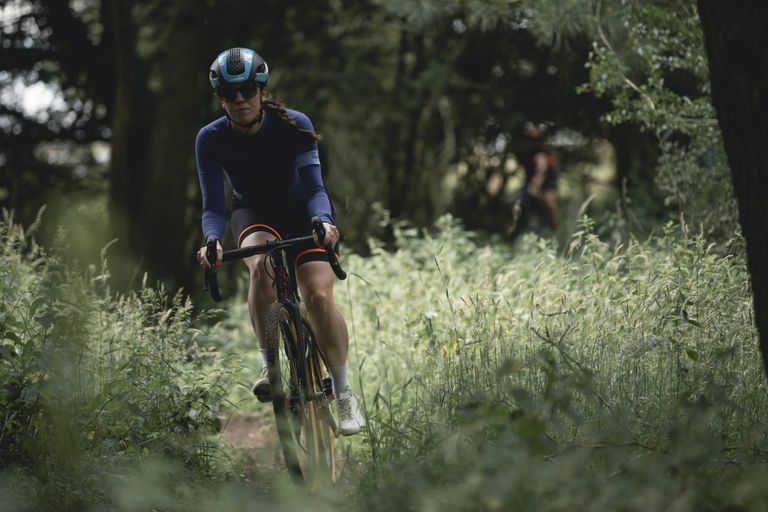 (Image credit: Canyon UK)
Gravel bikes are drop-bar bikes that open up a whole of host of trails and byways that criss cross the countryside. Some are tailored for off-road speed, while others are built more robust for the demands of longer excursions and bikepacking needs.
> How to get started in bikepacking
Not all women will want a female specific bike, but some brands say that women typically have shorter upper bodies, using female specific geometry for the best fit with little to no fuss. Regardless of geometry changes, all good brands kit will kit women's bikes out with contact points that suit the average female rider, such as a wider shaped women's saddle and narrower handlebars for our slim shoulders. Opting for a women's model can save you paying out to update these components. Finally, women's bikes will typically be available in smaller sizes.
Some brands are now providing a greater range of sizes on their standard bikes (which are currently marketed as unisex) so that shorter riders can enjoy more aggressive riding positions. Brands that sell a unisex frameset and allow you to customise your build will give you the option of choosing female specific contact points before your dream bike lands in the basket, thus saving on the cost of updating contact points.
> Why 'women's specific' could be for you?
Best women's gravel bikes
If a women's specific or a customisable unisex bike is for you, below is our pick of the best female-ready gravel bikes for exploring the trails less travelled. Read on for more details about what to look out for in a gravel bike, and how they differ from cyclocross and road bikes.
With each product is a 'Buy Now' or 'Best Deal' link. If you click on this then we may receive a small amount of money from the retailer when you purchase the item. This doesn't affect the amount you pay.
Canyon Grail WMN Al 6.0 women's gravel bike
The Grail WMN Al 6.0 is Canyon's entry point aluminium bike for trekking from tarmac to gravel, combining reliability and style effortlessly.
Canyon has fined-tuned the Grail to the needs of the female anatomy by including adapted cockpit dimensions and women's specific Selle Italia saddles.
It features Shimano's GRX400 dedicated gravel groupset that can cope with fast riding over loose terrain, while giving you a broad range with its 46/30 chainset and 11-34 rear cassettes.
Finishing off, the internal cable routing completes of the clean look of this gravel grinding ride.
Read more:Canyon Grail Al gravel bike release
Buy now:Canyon Grail WMN Al 6.0 gravel bike at Canyon for £1399
Cannondale Topstone 105 women's gravel bike
Exploring the routes less travelled, and raking up the big miles on backroads, is possible with Cannondale's alloy machine with sporty handling.
For light and precise front end steering, the topstone has a full carbon fork with a tapered steerer and 12mm thru-axles. With a slack head angle and a long 55m fork rake stability should be no concern on this bike.
It is fitted with WTB Riddler 37c high volume tyres for reliable traction off-road and comes with plenty of tyre clearance—there is room for up to 42mm wide options.
With mounts for multiple bottle cage positions on the downtube, this bike can accommodate large frame bags which makes the topstone a versatile choice.
Fitted with a women's specific saddle it is ready to be taken on long adventures off the beaten track.
Read more:Cannondale Topstone Carbon Ultegra RX review
Buy now:Cannondale Topstone 105 women's gravel bike at Leisure Lakes Cycles for £1499.99
Liv Brava SLR women's gravel bike
While the Brava is primarily pitched as a cyclocross racing bike, it functions as a neat and versatile machine that excels when out on ventures across mixed terrain.
With performance in mind, the aluminium frame is lightweight, with the whole build coming in at around 9.1kg. Equipped with a SRAM apex 1 drivetrain, the single ring set up will provide secure and simple shifting.
Always optimising their bikes for female riders, Liv's Brava is ready for comfy adventures thanks to its Liv Contact saddle and narrower width handlebars.
However the Brava's aggressive riding position, when compared to other gravel bikes, means it is more suited for short grinds on the dirt than longer escapades.
Buy now:Liv Brava SLR women's gravel bike at Rutland Cycling for £1798.99
Boardman ADV 8.6 women's gravel bike
Boardman's ADV 8.6 entry level adventure bike will lure you onto the dirt and unexplored trials without the dent of a big price tag.
The aluminium frame is designed with an oversized downtube and a tapered headtube for precise handling on rougher terrain. The ADV 8.6 is paired with a carbon fork and kitted out with Tektro mechanical disc brakes.
It has Boardman wheels wrapped in 38mm Schwalbe tubeless-ready tyres that are fast-rolling but grippy, and 9 speed Shimano Sora gears with an adventure compact 48/32 chainset and 11-34 cassette for tackling all topography.
The ADV 8.6, like all Boardman's women's bikes, is built specifically for females and so you will benefit from a female-specific saddle, narrower bars and shorter stem for a comfy fit.
Buy now:Boardman ADV 8.6 women's gravel bike at Halfords for £700
Cotic Escapade gravel bike
Fantastic versatility and agile riding is on offer with Cotic's Escapade that is designed, engineered and tested at the brand's base in the Peak District, near Sheffield.
Its steel frame is hand made in Taiwan and dip coated with zinc phosphate which gives a perfect paint finish while preventing corrosion—an important aspect for a bike that is likely to be ridden through all weather conditions.
The Escapade features an ovalized top tube and tapered head tube for stiffness. Complementing this is Cotic's latest lightweight carbon fork, which comes in at just 550 grams.
Although this gravel bike comes with high volume 700 x 37c slicks, the frame is also compatible with 650b 47mm tubeless tyres for even more cushion.
For those who prefer to pick and choose your own spec, it will please you to know the Escapade is a fully customisable build and so, for example, it can be finished with a WTB Deva Race women's specific saddle.
Buy now:Cotic Escapade gravel bike at Cotic from £699 (frame only)
Fustle Causeway GR1 gravel bike
Coming from a mountain biking background, Fustle have transferred this skillset into designing the Causeway gravel bike, which will give you an edge on more technical terrain than other gravel offerings.
Fustle has opted for a significantly slacker head angle than most gravel bikes at 69 degrees, which places the front wheel further forward and prevents your weight being pitched too far forward when riding steeper downhill sections. This is combined with a longer top tube and a shorter stem (60mm is standard) to ensure speedy steering response.
A full carbon fork on the Causeway offers compliance over rough terrain and the frame is produced in 6000 series aluminium to deliver a lightweight and robust chassis.
The mountain bike brand also grants the customer full customisation so you can choose from a whole host of wheel brands, 700c or 650b, a dropper post, tyres, saddle and cockpit to suit you and your local terrain straight out of the box.
> Which is best for gravel: 700c or 650b?
Read more:Fustle Causeway GR1 Review
Buy now:Fustle Causeway GR1 at Fustle from £1999.99
Juliana Quincy Carbon CC Rival women's gravel bike
Juliana's Quincy is a dirt road machine that combines responsive handling with minimal weight for punctual accelerations.
This full-carbon gravel grinder is built up with 700c wheels that can fit tyres as wide as 45mm.
It is equipped with SRAM's Rival 11 speed groupset with a 40t chainring and 10-42t cassette that will serve you well even on the toughest of climbs.
Finished with a slick paint job and the Ergon SR10 Sport Gel women's saddle the Quincy will allow you to ride with style and comfort wherever you dare to venture.
Buy now:Juliana Quincy Carbon CC Rival bike at Stifmtb for £3699
Anatomy of a gravel bike
Key features to expect in a gravel bike are listed below. In the women's specific models, you'll expect a women's saddle, and narrower handlebars as well as a spread of sizes more suited to shorter riders.
Wide clearance
Gravel bikes have wide clearances to cope with the mud of off-road riding and also to fit wider tyres for greater comfort. Tyre width seems to keep on increasing in this department, with some bikes now having clearance for 2.1" 650b wheels. As cyclocross racing is governed by the UCI, there are some tight regulations on the size of tyre—the widest you can have is 33mm—so a dedicated cyclocross bike will have tighter clearances than a gravel bike these days.
>>> Gravel vs cyclocross: what is the difference?
Head angle
A gravel bike will have a slacker head angle than a road or cyclocross bike, and some also even slacker than old school mountain bikes. A slacker head angle will make the bike feel more stable, which is desirable for bombing down forest firetracks. But it also makes the steering feel more sluggish. It is for this reason that cyclocross bikes will have a steeper head angle so riders can tackle the twisty sections of courses.
Mounting points
Gravel bikes are often bought with the intention of bike packing. As such, it is useful to be able to attach accessories to your bike. Many gravel bikes will have three bottle bosses on the downtube for greater versatile of cage placement and a set of bosses on the top tube for a top tube bag. Some will also have bosses on the fork for 'anything cages'. These are all in addition to the traditional rack and mudguard mounts.
Low gearing
A gravel bike will have lower gearing than a cyclocross bike and especially a road bike. There is more rolling resistance on dirt and also unpaved climbs tend to be steeper. Added to this, if you are on a long adventure there's the extra weight of carting around your sleeping bag.
A 1:1 gear ratio, equating to 28 gear inches, is the minimum really here. The Shimano GRX 2x11 groupset, with its 30 tooth little chainring and 34 tooth largest sprocket, gives a smallest gear of around 24 gear inches. Whereas the easiest gear for a traditional cyclocross bike would be 36x28, giving around 35 gear inches. This is all that is necessary as riders typically get off and run when the climbing gets hard.
Wide flared handelbars
For extra control, gravel bikes often come with wider handlebars and also ones which have the drops flared outwards. This comes at an aero expense and is why handlebars on specific cyclocross bikes don't go as wide.
Bottom bracket
A gravel bike will have a lower bottom bracket than a cyclocross bike for stability. Whereas cyclocross bikes have higher bottom brackets as this helps with clearances for obstacles.
Chainstays
A gravel bike will have longer chainstays. This makes the bike feel more stable, especially when loaded up for a bike packing adventure. But as with the head angle, the longer chainstays offer increased stability at the expense of snappy handling, which is why cyclocross bikes have shorter ones.