March's tech of the month: Kask, POC, Giro and the Cannondale CAAD12
Another special this month, this time taking a closer look at three top helmets from Kask, POC and Giro. The team also praise the aluminium king, the Cannondale CAAD12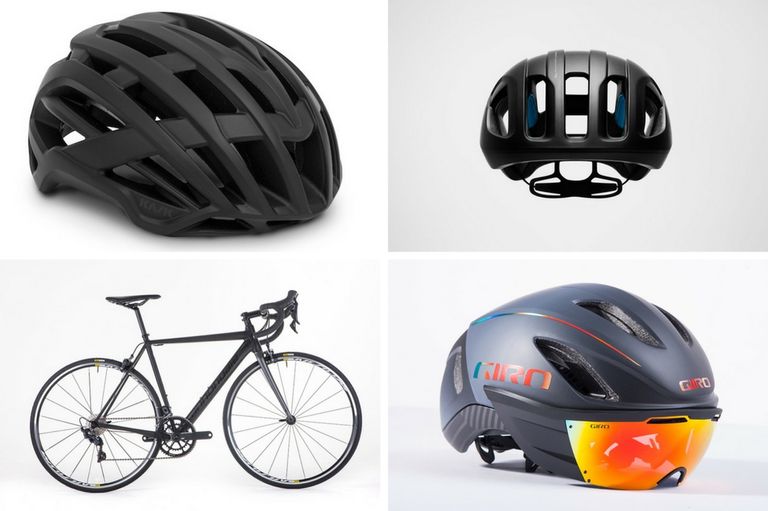 Tech of the month is nearly three years old, would you believe! So we celebrate with a helmet special - no innuendos please. As always, Oliver, Symon and Rupert talk through three top-end helmets as well as a tasty number from Cannondale.
Kask Valegro
Weighing in at 200g the Kask Valegro is a feather weight helmet used by Team Sky at the 2017 Tour de France. A whopping 37 vents aims to make it one of the coolest helmets out on the market too.
Kask says that its had this lid in the wind tunnel to further understand how the cooling works rather than aerodynamically testing it.
The lid is pretty comfortable to wear and typical of Kask helmets has nice feel straps, pads and a eco-friendly leather chin strap that adds a bit of luxury.
POC Ventral
Brand new for 2018 is the POC Ventral helmet, which claims to be the lightest and most aerodynamic helmet out on the market today. Weighing in at 245g on our scales it certainly is knocking on the door of lightweight designs.
The Swedish brand claims this helmet to be a 'do-it-all' aero road helmet and follows design cues from its old sibling the POC Octal Aero. POC says that the large vents aim to draw in air rather than push it over the top. Cool and aero, we like that!
Giro Vanquish
Would you turn up to the club run wearing a visor? Oliver Bridgewood did and got a cold reception. Although, this aero road helmet is super fast and claims to save you an extra watt with the visor on... who needs ride mates with that sort of saving?
At £235 it undercuts the Giro Synthe in terms of price, is more aerodynamic and without the visor can pass as a 'normal' road lid. However, you will look like an Imperial gunner on the Death Star!
Cannondale CAAD12 Ultegra
The Cannondale CAAD12 is the showpiece of what the American brand can do with aluminium. The bike draws on all of Cannondale's 30 years of understanding and expertise, and applies the super brainpower of modern computing. If you ever wondered what CAAD actually stands for, well, it's 'Cannondale Advanced Aluminium Design'.
For the price I'd go as far to say there is nothing better out on the market in terms of pure performance. As this bike stands you'll be able to race it, even with those Mavic Askium wheels on (of course swapping these out for something carbon will be advised when aiming for speed).
The amount of stiffness you get is unrivalled at this price point and if you are after a racing machine on a budget, get this. Even if you are toying with the idea of going carbon, get this.