Where can I get a Black Friday deal on Specialized shoes?
There are some great discounts on Specialized shoes in the days leading up to Black Friday - we've found the best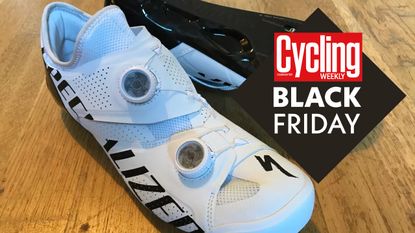 (Image credit: Future)
Specialized shoes are considered to up there with the best, if not the best. They're hard to beat not just because they've been worn by multiple world champions and Grand Tour stage winners, but also because they have a reputation for being supremely comfortable for the everyday rider too.
This is down to Specialized's Body Geometry, a concept that started out with saddles and which it has since applied to all the contact points. Specialized takes a wholly scientific approach with cycling shoes, recognising firstly that the human foot was designed for walking, not pedalling, so it worked with the Boulder Center for Sports Medicine to solve all the problems that arose with traditional cycling shoes.
We've reviewed many Specialized shoes over the years and found that they fit a wide range of foot shapes and riding styles. It's hard to think of the last time we didn't get on well with a pair, be that the flagship S-Works 7 or the entry level Torch 1.0.
That's why it's always exciting when Specialized shoes are on sale - and in the week leading up to Black Friday there are already some amazing deals out there.
At the moment the UK deals are better than the US ones, but we expect that situation to change, so be sure to bookmark this page and check back.
Also check out our Black Friday hub page, which has an ever-lengthening list of incredible cycling deals. There are over 90 on there as we speak...
Shop Specialized shoes now
More Black Friday deals for you...
Thank you for reading 5 articles this month* Join now for unlimited access
Enjoy your first month for just £1 / $1 / €1
*Read 5 free articles per month without a subscription
Join now for unlimited access
Try first month for just £1 / $1 / €1