The Best Cyber Monday bike deals: the best savings the internet has to offer
We've rounded up the best Cyber Monday bike deals on the web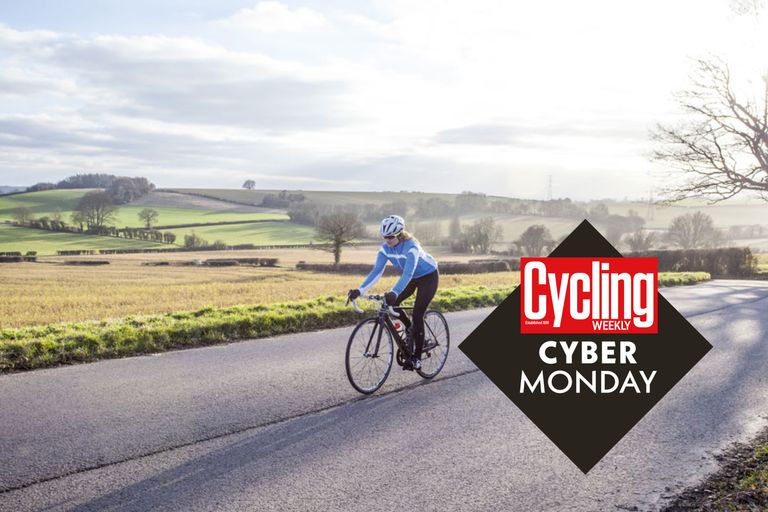 If you're a big fan of cycling deals you may be saddened that Black Friday has ended, but fear not! Cyber Monday deals are coming in so you can, in some cases, get even better deals than Black Friday as retailers battle for attention in the rush for Christmas buys.
Black Friday is the traditional high street shopping event, Cyber Monday is given to the online sales that come through as shoppers trawl the net for that perfect buy while at work... Or working from home this year. The Covid-19 year means that most deal hunters have taken their search online, and we've created this page to help
With each product is a 'View Deal' link. If you click on this then we may receive a small amount of money from the retailer when you purchase the item. This doesn't affect the amount you pay.
Don't want to scroll? Navigate the page:
Cyber Monday road and gravel bike deals UK
Cyber Monday tyre and wheel deals UK
Cyber Monday clothing deals UK
Cyber Monday tech deals UK
Cyber Monday helmet deals UK
Cyber Monday light deals UK
Cyber Monday component deals UK
Cyber Monday road and gravel bike deals US
Cyber Monday tyre and wheel deals US
Cyber Monday clothing deals US
Cyber Monday tech deals US
Cyber Monday helmet deals US
Cyber Monday light deals US
Cyber Monday component deals US
Cyber Monday bike deals UK 2020
Cyber Monday road and gravel bike deals 2020 UK
Cyber Monday tyre deals 2020 UK
Cyber Monday clothing deals 2020 UK
Cyber Monday tech deals 2020 UK
Cyber Monday helmet deals 2020 UK
Cyber Monday lights deals 2020 UK
Cyber Monday component, tools and cleaning deals 2020 UK
Cyber Monday deals US
Cyber Monday road and gravel bike deals US 2020
Cyber Monday tire deals 2020 US
Cyber Monday cycling clothing deals 2020 US
Cyber Monday tech deals 2020 US
Cyber Monday light deals 2020 US
Cyber Monday component and tool bike deals 2020 US
More Cycling Weekly deals hubs
Power meter deals: Looking to get faster and stronger in 2020? A power meter will help you track your training - we've hunted out deals
Cycling sunglasses deals: Sunglasses aren't just for summer - they keep rain and debris out of your eyes in the less favorable months, too - here are some excellent offers
Cycling shoe deals: Everyone loves fresh kicks. We've found shoes to suit a range of budgets, and riding styles
Bike tyres deals: Or 'tires' if you're in the US! However you spell them, bike shoes are consumables - they don't last forever, if you need to replace yours, now is a good time
Garmin deals: Looking to update your cycling computer? Now is the time! There's also deals on heart rate monitors and Vector power meter pedals worth checking out, too.
Castelli deals: Castelli makes some sensational winter kit, and there are deals if you look for them.
End of season bike deals: Whilst a bike is a considered purchase, if you've been considering one for some time and it's not reduced, then happy days!
Electric bike deals: Electric bikes have been very, very popular in 2020 - but there are some savings to be had on these excellent commuting pals
The best wheel deals: A new pair of wheels can revolutionise your ride - check out these savings to enjoy that uplift in performance for a bargain price
Nutrition deals: Staying well fueled is important, and it's cheaper to do so if you buy in bulk at a discount
Best Wiggle deals: Wiggle has some massive deals across the US and UK, we've rounded up some of the best in our own selection of handpicked offers
Best Rapha deals: Rapha isn't doing 'Black Friday' or Cyber Monday this year, but that doesn't mean to say it is devoid of savings - the archive sale includes some great offers
Lights deals: Bike lights are essential of you plan to ride before dawn or after dusk, and they're pretty good to have the rest of the time too. These savings could help you get a quality pair that you'll keep for seasons to come
Best Evans Cycles deals: The UK high street retailer is always a popular destination for bikes, since you can go in store to try one one (Covid guidelines allowing), but it has offers on clothing, components and tech gadgets too
The best Chain Reaction Cycles deals: Sibling to Wiggle, CRC has always been known for its excellent component deals - we hunted the sale rails
Best helmet deals: There are a lot of styles of helmets out there, and the CW tech team has tested a lot of them - we pull out our favourite lids that have savings attached
Jenson USA deals: Our US writers have hunted out the best deals at Jenson USA, to bring you a plethora of offers across the board
Competitive Cyclist deals: Competitive Cyclist went big on Black Friday this year, and US experts guide you through the finest of the deals
Where to find the best Cyber Monday Deals
Want to hunt out something specific? We're expecting the deals to land from November 1, and these are the sites we'll be checking straight away...
Competitive Cyclist - These guys are big in the US and stock a wide range of kit for road cyclists and mountain bikers, with brands including Giro, Wahoo, Specialized and more
Jenson USA - One of the biggest cycling specific online retainers in the US - you'll find pretty much anything here
Backcountry - This US outdoor retailer stocks kit for all sorts of persuits, including cycling - and we've fond many a good offer among the shelves
ProBikeKit - Big in the UK and the US, these guys ship all over the world
Evans Cycles - The UK's largest online highstreet retailer Evans Cycles comes with the benefit of bricks and mortar stores - handy if you need to make returns or click and collect is more convenient
Wiggle - Wiggle services over 70 counties, and is the world's largest online cycling shop. It has its own brand, dhb, which offers exceptional value kit even at RRP, too
Chain Reaction Cycles - CRC is now owned by Wiggle - it has a particularly good reputation for cut priced components
Tredz - These guys have always gone big on Black Friday and Cyber Monday and we expect 2020 to be no exception
Tweeks - A smaller UK retailer, but big on deals - especially over Black Friday and Cyber Monday
Walmart - Perhaps not an obvious first choice, but Walmart does stock a lot of kit cyclists will enjoy - from iPads for Zwift to GoPros and Garmin computers
Amazon - Not traditionally a cyclist's 'go to', but Amazon does stock a lot of non-cycling kit we like (coffee machines are the best example!) as well as gear from Giro, Garmin, Wahoo and more
Ribble - The UK bike brand often releases some big deals on its own bikes, and it also stocks clothing and components which are sometimes available at a bargain price, too
Rutland - A UK retailer that ships all over the world, we often raid Rutland for bike deals, and they've often got good stock from Giant and Liv
We'll be bringing you deals daily - so keep checking back!