Rapha's Cyber Monday push: no big sales but group rides and a $150,000 donation instead
If you were hoping for massive markdowns, you'll be disappointed. Go ride instead!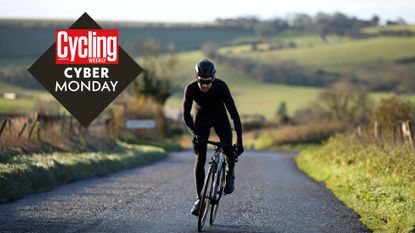 (Image credit: Future)
If you were hoping for massive markdowns on Rapha apparel among the myriad Cyber Monday bike deals out there this week, you'll be sorely disappointed.
The popular cycling apparel company is currently offering a blanket 25% off (opens in new tab) across all its collections, but would rather see you heading out for a ride than spend the weekend shopping.
As in years past, Rapha (opens in new tab) is calling on its community to hit the roads, trails or singletracks on Cyber Monday in support of World Bicycle Relief (WBR), an international non-profit organization that specializes in large-scale bicycle distribution programs to aid poverty relief in developing countries around the world.
In the past two years, more than 300,000 people have taken part in Cyber Monday rides across the globe, covering over 4,000,000 kilometres. The funds raised through its Cyber Monday Ride campaign have supported WBR's Communities on the Move project and its work in Kasungu, Malawi, where now 3,804 residents have received an iconic Buffalo Bicycle which in turn improves their access to healthcare, education and employment.
In addition to the funds raised during the global group rides, Rapha itself, through its philanthropic arm the Rapha Foundation, will donate $150,000 to WBR and its Communities on the Move programme.
Rapha held various rides on Black Friday at the below locations.
Rides in the UK:
- London
Rides in the US:
- Austin
- Boulder
- Chicago
- Miami
- New York
- Seattle
Thank you for reading 10 articles this month* Join now for unlimited access
Enjoy your first month for just £1 / $1 / €1
*Read 5 free articles per month without a subscription
Join now for unlimited access
Try first month for just £1 / $1 / €1
Cycling Weekly's North American Editor, Anne-Marije Rook is old school. She holds a degree in journalism and started out as a newspaper reporter — in print! She can even be seen bringing a pen and notepad to the press conference.
Originally from The Netherlands, she grew up a bike commuter and didn't find bike racing until her early twenties when living in Seattle, Washington. Strengthened by the many miles spent darting around Seattle's hilly streets on a steel single speed, Rook's progression in the sport was a quick one. As she competed at the elite level, her journalism career followed, and soon she became a full-time cycling journalist. She's now been a cycling journalist for 11 years.