Glasgow Road Cycling World Championships 2023: Results, routes and schedule
Road World Championships coverage from Cycling Weekly, with up to date race results, news and reports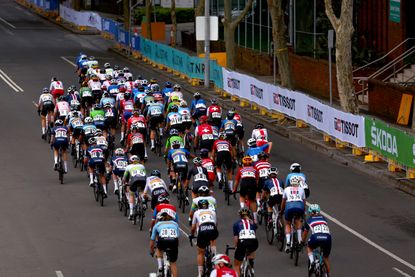 (Image credit: Con Chronis/Getty Images)
Swipe to scroll horizontally
Road World Championships schedule

| | | |
| --- | --- | --- |
| Saturday 5 August | Women's junior road race | 70km |
| Saturday 5 August | Men's junior road race | 127.2km |
| Sunday 6 August | Men's elite road race | 271.1km |
| Tuesday 8 August | Mixed relay TTT | 40.4km |
| Wednesday 9 August | Men's U23 individual time trial | 36.2km |
| Thursday 10 August | Women's junior individual time trial | 13.4km |
| Thursday 10 August | Women's elite individual time trial | 36.2km |
| Friday 11 August | Men's junior individual time trial | 22.8km |
| Friday 11 August | Men's elite individual time trial | 47.8km |
| Saturday 12 August | Men's U23 road race | 168.4km |
| Sunday 13 August | Women's elite and U23 road race | 154.1km |
Dates: August 5 - 13, 2022
Events: 11
Location: Glasgow, United Kingdom
TV Coverage (UK): Eurosport/GCN+, BBC
The 2023 UCI Road World Championships taking place in Glasgow, Scotland, as part of the "super Worlds", with track, indoor, BMX, mountain biking and other events. The road section begins on Saturday, 5 August, and continue for just over a week, with events happening almost every day.
This is the 96th edition of the event, which now sees 13 rainbow jerseys will be awarded across the different categories.
The battles for the rainbow jerseys begin with the junior road races on Saturday 5 August, and end on Sunday 13 August with the women's elite road race. There are 12 separate events, with the under-23 women's road race combined with the elite road race for a second year.
The 2023 road races all end on the Glasgow City Circuit, a 14.3km urban course which includes several short climbs before the finish at George Square. The junior women and junior men will race just five and nine laps respectively of circuit.
The men's road race will start in Edinburgh before traversing the country and spending ten laps tackling a lumpy circuit around Glasgow. The men will cover 277km with 3,167m of climbing.
The women and under-23 men, meanwhile, will both start on the banks of Loch Lomond to the north west of Glasgow before looping back down to the city. Once there they'll enter the circuit and complete six and seven laps of the circuit respectively. The women's elite race will be 157km with 1,930m of climbing.
The technical and twisty Glasgow circuit features the punchy climb to Park Circus at the start before heading into the centre of town passing Glasgow School of Art and the University of Strathclyde on the way.
It'll then pass the Gallery of Modern Art and head into the city's shopping district on its way to Glasgow's west end. In its final leg it heads along Byres Road before making for the finishing straight at George Square.
Road World Championships 2023 routes
Past World Championship winners
2000:
WE TT Mari Holden
ME TT Serhiy Honchar
MU23 TT Evgeni Petrov
MJ ITT Piotr Mazur
MJ RR Jeremy Yates
MU23 RR Evgeni Petrov
WJ RR Nicole Cooke
WE RR Zinaida Stahurskaya
ME RR Romans Vainšteins
2001:
WE TT Jeannie Longo
ME TT Jan Ullrich
MU23 TT Danny Pate
MJ ITT Jurgen van den Broeck
MJ RR Oleksandr Kvachuk
MU23 RR Yaroslav Popovych
WJ RR Nicole Cooke
WE RR Rasa Polikevičiūtė
ME RR Óscar Freire
2002:
WE TT Zulfiya Zabirova
ME TT Santiago Botero
MU23 TT Tomas Vaitkus
MJ ITT Mikhail Ignatiev
MJ RR Arnaud Gérard
MU23 RR Francesco Chicchi
WJ RR Suzanne de Goede
WE RR Susanne Ljungskog
ME RR Mario Cipollini
2003:
WE TT Joane Somarriba
ME TT Michael Rogers
MU23 TT Markus Fothen
MJ ITT Mikhail Ignatiev
MJ RR Kai Reus
MU23 RR Sergey Lagutin
WJ RR Loes Markerink
WE RR Susanne Ljungskog
ME RR Igor Astarloa
2004:
WE TT Karin Thurig
ME TT Michael Rogers
MU23 TT Janez Brajkovič
WJ ITT Tereza Huríková
MJ ITT Patrick Gretsch
MJ RR Roman Kreuziger
MU23 RR Kanstantsin Siutsou
WJ RR Marianne Vos
WE RR Judith Arndt
ME RR Óscar Freire
2005:
WE TT Karin Thurig
ME TT Michael Rogers
MU23 TT Mikhail Ignatiev
MJ ITT Marcel Kittel
MJ RR Ivan Rovny
MU23 RR Dmytro Grabovskyy
WJ RR Mie Lacota
WE RR Regina Schleicher
ME RR Tom Boonen
2006:
WE TT Kristin Armstrong
ME TT Fabian Cancellara
MU23 TT Dominique Cornu
MJ ITT Marcel Kittel
MJ RR Diego Ulissi
MU23 RR Gerald Ciolek
WJ RR Rasa Leleivytè
WE RR Marianne Vos
ME RR Paolo Bettini
2007:
WE TT Hanka Kupfernagel
ME TT Fabian Cancellara
MU23 TT Lars Boom
WJ ITT Josie Tomic
MJ ITT Taylor Phinney
MJ RR Diego Ulissi
MU23 RR Peter Velits
WJ RR Eleonora Patuzzo
WE RR Marta Bastianelli
ME RR Paolo Bettini
2008:
WE TT Amber Neben
ME TT Bert Grabsch
MU23 TT Adriano Malori
WJ ITT Mari Grandt Petersen
MJ ITT Michał Kwiatkowski
MJ RR Johan Le Bon
MU23 RR Fabio Duarte
WJ RR Jolien D'Hoore
WE RR Nicole Cooke
ME RR Alessandro Ballan
2009:
WE TT Kristin Armstrong
ME TT Fabian Cancellara
MU23 TT Jack Bobridge
MJ ITT Luke Durbridge
MJ RR Japser Stuyven
MU23 RR Romain Sicard
WJ RR Rossella Callovi
WE RR Tatiana Guderzo
ME RR Cadel Evans
2010:
WE TT Emma Pooley
ME TT Fabian Cancellara
MU23 TT Taylor Phinney
MJ ITT Bob Jungels
MJ RR Olivier Le Gac
MU23 RR Michael Matthews
WJ RR Pauline Ferrand-Prévot
WE RR Giorgia Bronzini
ME RR Thor Hushovd
2011:
WE TT Judith Arndt
ME TT Tony Martin
MU23 TT Luke Durbridge
MJ ITT Mads Würtz Schmidt
MJ RR Pierre-Henri Lecuisinier
MU23 RR Arnaud Démare
WJ RR Lucy van der Haar
WE RR Giorgia Bronzini
ME RR Mark Cavendish
2012:
WE TT Judith Arndt
ME TT Tony Martin
MU23 TT Anton Vorobyev
WJ ITT Elinor Barker
MJ ITT Oskar Svendsen
MJ RR Matej Mohorič
MU23 RR Alexey Lutsenko
WJ RR Lucy van der Haar
WE RR Marianne Vos
ME RR Philippe Gilbert
2013:
WE TT Ellen van Dijk
ME TT Tony Martin
MU23 TT Damien Howson
WJ ITT Séverine Eraud
MJ ITT Igor Decraene
MJ RR Mathieu van der Poel
MU23 RR Matej Mohorič
WJ RR Amalie Dideriksen
WE RR Marianne Vos
ME RR Rui Costa
2014:
WE TT Lisa Brennauer
ME TT Bradley Wiggins
MU23 TT Campbell Flakemore
WJ ITT Macey Stewart
MJ ITT Lennard Kämna
MJ RR Jonas Bokeloh
MU23 RR Sven Erik Byrstrøm
WJ RR Amalie Dideriksen
WE RR Pauline Ferrand-Prévot
ME RR Michał Kwiatkowski
2015:
WE TT Linda Villumsen
ME TT Vasil Kiryienka
MU23 TT Mads Würtz Schmidt
WJ ITT Chloe Dygert
MJ ITT Leo Appelt
MJ RR Felix Gall
MU23 RR Kévin Ledanois
WJ RR Chloe Dygert
WE RR Elizabeth Deignan
ME RR Peter Sagan
2016:
WE TT Amber Neben
ME TT Tony Martin
MU23 TT Marco Mathis
WJ ITT Karlijn Swinkels
MJ ITT Brandon McNulty
MJ RR Jakob Egholm
MU23 RR Kristoffer Halvorsen
WJ RR Elisa Balsamo
WE RR Amalie Dideriksen
ME RR Peter Sagan
2017:
WE TT Annemiek van Vleuten
ME TT Tom Dumoulin
MU23 TT Mikkel Bjerg
WJ ITT Elena Pirrone
MJ ITT Tom Pidcock
MJ RR Julius Johanesen
MU23 RR Benoît Cosnefroy
WJ RR Elena Pirrone
WE RR Chantal van den Broek-Blaak
ME RR Peter Sagan
2018:
WE TT Annemiek van Vleuten
ME TT Rohan Dennis
MU23 TT Mikkel Bjerg
WJ ITT Rozemarijn Ammerlaan
MJ ITT Remco Evenepoel
MJ RR Remco Evenepoel
MU23 RR Marc Hirschi
WJ RR Laura Stigger
WE RR Anna van der Breggen
ME RR Alejandro Valverde
2019:
WE TT Chloe Dygert
ME TT Rohan Dennis
MU23 TT Mikkel Bjerg
WJ ITT Aigul Gareeva
MJ ITT Antonio Tiberi
MR TTT Netherlands
MJ RR Quinn Simmons
MU23 RR Samuele Battistella
WJ RR Megan Jastrab
WE RR Annemiek van Vleuten
ME RR Mads Pedersen
2020:
WE TT Anna van der Breggen
ME TT Filippo Ganna
WE RR Anna van der Breggen
ME RR Julian Alaphilippe
2021:
WE TT Ellen van Dijk
ME TT Filippo Ganna
MU23 TT Johan Price-Pejtersen
WJ ITT Alena Ivanchenko
MJ ITT Gustav Wang
MR TTT Germany
MJ RR Per Strand Hagenes
MU23 RR Filippo Baroncini
WJ RR Zoe Bäckstedt
WE RR Elisa Balsamo
ME RR Julian Alaphilippe
2022:
WE TT Ellen van Dijk
ME TT Tobias Foss
MU23 TT Søren Wærenskjold
WJ ITT Zoe Bäckstedt
MJ ITT Joshua Tarling
MR TTT Switzerland
MJ RR Emil Herzog
MU23 RR Yevgeniy Fedorov
WJ RR Zoe Bäckstedt
WU23 RR Niamh Fisher-Black
WE RR Annemiek van Vleuten
ME RR Remco Evenepoel
(WE TT: Women's elite time trial; ME TT: Men's elite time trial; MU23 TT: Men's under-23 time trial; WJ TT: Women's junior time trial; MJ TT: Men's junior time trial; MR TTT: Mixed relay team time trial; MJ RR: Men's junior road race; MU23 RR: Men's under-23 road race; WJ RR: Women's junior road race; WU23 RR: Women's under-23 road race; WE RR: Women's elite road race; ME RR: Men's elite road race)
Thank you for reading 20 articles this month* Join now for unlimited access
Enjoy your first month for just £1 / $1 / €1
*Read 5 free articles per month without a subscription
Join now for unlimited access
Try first month for just £1 / $1 / €1