Tech of the month August: A super light Supersix and Lezyne's Super GPS'
Our tech team take a look at some of their favourite products from the last month, including the Bont Riot + shoes a super light Cannondale Supersix and a Lezyne Super GPS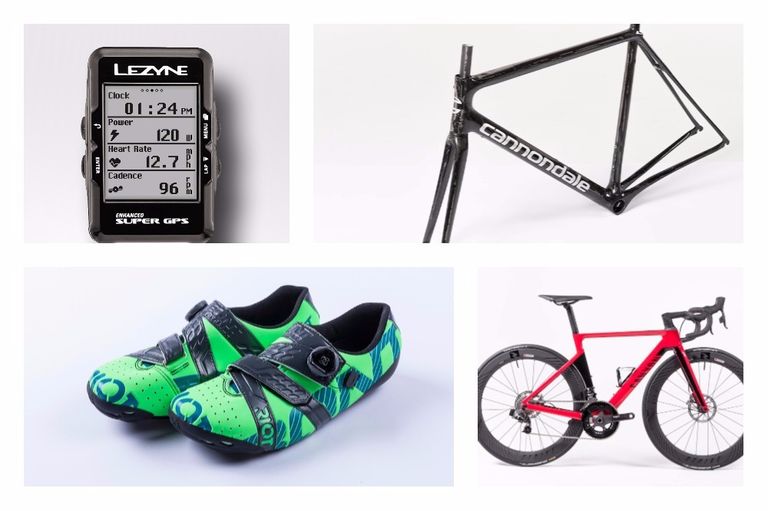 We can't quite believe that we're already in August. The Tour de France might be over but the Vuelta a España is just about to begin.
To celebrate CW's tech team has pulled together their favourite tech for August.
Bont Riot + Shoes
Riot in name, riotous in colour. This month tech editor Symon has brought along some snazzy new shoes – the Bont Riot +.
These shoes come with all of Bont's top tech, just with a much smaller price tag. The sole is heat mouldable, they come with a boa dial and they're pretty stiff to boot.
Cannondale Super Light SuperSix Evo frame
This month Oliver has this super light Cannondale Supersix Evo HiMod Black Inc custom frame. It's the lightest frame set that Cannondale does, and for this special one off it has made it even lighter.
Fat Creations, a specialist paint company, has stripped the paint off it, and saved over 200g on the frame and fork. It has then replaced the paint with a super light clear coat lacquer, which weighs a teeny 35g.
But why I hear you cry! Well Oliver is making a super light bike to do some super hill climbing in the Autumn. Super.
Lezyne Enhanced Super GPS
This little number is Lezyne's top end GPS unit, and it squarely takes aim at the Garmin Edge 520.
It's capable of keeping track of all your data and can push your performance with a variety of tests hooked up by ANT+ and Bluetooth sensors.
It can also do turn-by-turn navigation and isn't touchscreen, which, if you've struggled with the Garmin Edge 820 you'll be pleased to hear.
Bike of the Month: Canyon Aeroad CF SLX 2.0
Canyon's super-duper aero bike, equipped with discs and SRAM's HRD is our bike of the month for August.