5 Amazon Purchases I Use In My Daily Cycling Life
Save on bottle cleaning items, an air compressor, an ultrasonic cleaner and more during Amazon Prime Day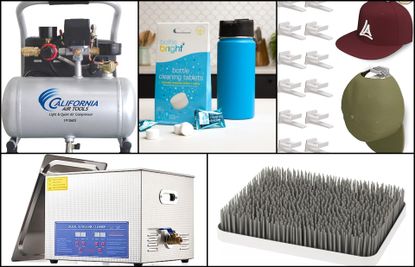 (Image credit: Future)
Get The Leadout Newsletter
The latest race content, interviews, features, reviews and expert buying guides, direct to your inbox!
Thank you for signing up to The Pick. You will receive a verification email shortly.
There was a problem. Please refresh the page and try again.
Maybe it's just me but I found the Amazon Prime Day sale quite underwhelming when it comes to significant savings on bike wishlist items.
There are some seriously tempting offers on the electronics side of things with headphones, bike computers and watches all on sale, but when it comes to components and complete bikes, you're best off looking elsewhere.
However, my bike life extends well beyond actual time in the saddle. My garage, kitchen and office all have specific items that are tell-tale signs that a cyclist lives here.
Here are five Amazon purchases I've made that I use in my daily life as a cyclist, and that are on sale during Prime Day:
Boon Lawn Bottle Drying Rack
This is one of my all-time favorite Amazon purchases, and one that's been a constant presence on my kitchen counter for at least eight years now.
While intended for baby bottles, it's a must-have for cyclists and water bottle users of all kinds. The drying rack may sport an unusual look but the plastic 'grass' plays a specific role. The sprigs grip items of all sizes and shapes while allowing for plenty of airflow to dry the items quickly. The lawn sits in a hard plastic, low profile container and all of it is super easy to clean. It's even dish-washer safe.
The lawn comes in green, white or grey colors and several sizes to fit your counter space.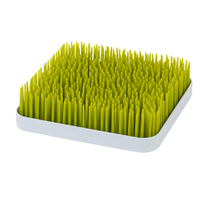 The 13.5 x 11 x 2.5 Boon lawn is current on sale for $24.99, down from $29.99
Bottle Bright Cleaning Tabs
While we're on the topic of bottle cleaning, these little tablets are bottle scrubbing wonders.
No one likes funky bottles or hydration bladders, and we probably should all clean our bottles and bladders more often than we do —no judgement, we're all guilty! Hydration bladders can be especially difficult to clean so I rely on Bottle Bright to keep them tasting and smelling clean. The tablets are super easy to use and don't contain any harsh chemicals either. You simply pop a tablet in a full bottle or bladder, let it fizz for 30 minutes, rinse and done! And it's safe to use on steel, plastic and ceramic alike so you can use them for all kinds of drinkware.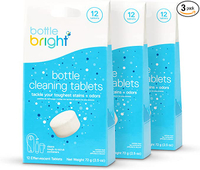 A Bottle Bright 3 Pack (36 Tablets) is now on sale for $19.20 instead of the usual $22.
Ultrasonic Cleaner
One of my favorite workbench tools is a 15-litre Skymen ultrasonic cleaner. The wet Pacific Northwest weather can be rough on bikes and I spend quite a bit of time on bike cleaning and maintenance. While not necessary per se, an ultrasonic cleaner is a big aid in not only keeping your cassette, chain, chainrings and other smaller parts clean, but by keeping these parts clean you're also extending their lifespan.
Ultrasonic cleaners, common in science labs, jewelry stores and bike shops alike, are water tanks that use high-frequency sound waves to agitate the liquid and, by a process called cavitation, frees grime and dirt from hard-to-reach or tight spaces of whatever item you've got submerged in the liquid. Basically, tiny magic bubbles scrub and loosen the dirt for you.
Ultrasonic cleaning is sometimes also called precision cleaning as the bubbles reach microscopic levels of the part you're cleaning, i.e.: in between chain link plates.
After the bath, you'll rinse the parts and maybe give it another gentle scrub et voilà, your parts look good as new.
You can pick up an ultrasonic cleaner fairly inexpensively but if you've got gravel or mountain bike gearing, I would recommend getting at least a 12- or 15-liter tank to fit the large cassettes.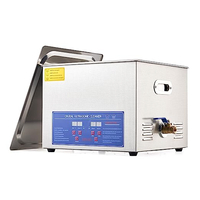 Similar to my own Skymen, the CREWORKS 15L Ultrasonic Cleaner is currently 20%, retailing for $159.19 instead of the usual $199.99.
California Air Tools Air Compressor
If you're running tubeless tires, you'll undoubtedly have experienced some struggles in getting the bead to seat properly and the tire to hold air. Luckily, tubeless tires have come a long way in recent years and many can now be set up using a regular floor pump. But for the more stubborn tires and ease of setup in general, an air compressor with its consistent, higher-pressure airflow is a really nice-to-have tool. Every professional bike shop has one and if you've got space for one, they're really not that expensive to add to your home bike shop as well.
I use an air compressor by a company called California Air Tools. I like this one due to its relatively small size and quietness. Some air compressors have the tendency to A: be very loud and B: vibrate so much that they take themself on a little jaunt through your garage. This one stays planted and is relatively quiet.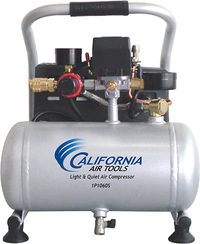 The California Air Tools CAT-1P1060S is currently 45% off, retailing for $93 instead of $167.99
Cycling cap display hooks
I have collected quite a few cycling caps over the years. I don't actually wear them but I hold onto them because many have fun memories and sentimental value to me. Thus, I've started hanging them in my home office. A few dozen now line the walls.
To hang them, I used the LokiEssentials Adhesive Hat Clips. They're easy to mount and hold the caps well. They're currently on sale for $9.99 for a 12 pack.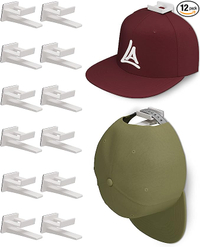 LokiEssentials Adhesive Hat Rack Display Hooks
Was $14.99, now $9.99
Thank you for reading 20 articles this month* Join now for unlimited access
Enjoy your first month for just £1 / $1 / €1
*Read 5 free articles per month without a subscription
Join now for unlimited access
Try first month for just £1 / $1 / €1