The best Amazon Prime Day cycling deals 2022: big discounts on GPS computers and watches
Amazon Prime Day only started today, Tuesday, July 12, and there are plenty of deals to be found across GPS units and watches, shoes, clothing and much more!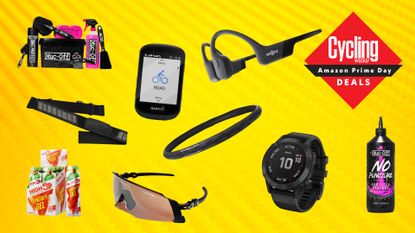 (Image credit: )
Amazon Prime Day is a bumper sale that, despite the name, actually lasts two days across the world's largest online retailer. While Amazon might not always be your first port of call for new bike kit, the good news is that there we've found a plethora of great offers on cycling specific gear.
We've picked out the best deals on Amazon right now and we'll be updating with even more deals as the best Amazon Prime Day deals are rolled out.
Looking for deals outside of cycling? See the offers compiled by our friends at Tech Radar (opens in new tab) and T3.
Amazon Prime Day now on: July 12 - 13
This year, Amazon Prime Day returns on Tuesday 12th and Wednesday 13th July.
Here at Cycling Weekly we've already sifted through the cycling deals on Amazon and pulled out the best products with the best discounts, based on our extensive knowledge of cycling kit and huge back-catalogue of reviews.
We'll be adding to this page throughout Amazon Prime Days, so it's well worth regularly checking back in for any new deals.
It's worth noting that you will need an Amazon Prime account (opens in new tab) to access these deals – fortunately, though, you can take out a 30-day free trial and cancel it as soon as you've grabbed the deals you want.
We've split things up into USA and UK deals. So, if you're on the east side of the Atlantic, then just...
>>>SKIP DOWN TO OUR UK PRIME DAY DEALS<<<
But for those of you sitting on the west, well, those deals are just up next...
Quick deals USA
Quick deals UK
Amazon Prime Day deals USA: Our top picks
CW's top picks | GPS watches | Cycling computers + tech | Sunglasses | Shoes | Shorts and jerseys | Components | Tools | Accessories
GPS watches
CW's top picks | GPS watches | Cycling computers + tech | Sunglasses | Shoes | Shorts and jerseys | Components | Tools | Accessories
Cycling computers + tech
CW's top picks | GPS watches | Cycling computers + tech | Sunglasses | Shoes | Shorts and jerseys | Components | Tools | Accessories
Sunglasses
CW's top picks | GPS watches | Cycling computers + tech | Sunglasses | Shoes | Shorts and jerseys | Components | Tools | Accessories
Shoes
CW's top picks | GPS watches | Cycling computers + tech | Sunglasses | Shoes | Shorts and jerseys | Components | Tools | Accessories
Shorts and jerseys
CW's top picks | GPS watches | Cycling computers + tech | Sunglasses | Shoes | Shorts and jerseys | Components | Tools | Accessories
Components
CW's top picks | GPS watches | Cycling computers + tech | Sunglasses | Shoes | Shorts and jerseys | Components | Tools | Accessories
Tools
CW's top picks | GPS watches | Cycling computers + tech | Sunglasses | Shoes | Shorts and jerseys | Components | Tools | Accessories
Accessories
CW's top picks | GPS watches | Cycling computers + tech | Sunglasses | Shoes | Shorts and jerseys | Components | Tools | Accessories
Amazon Prime Day UK
CW's top picks UK
CW's top picks | GPS watches | Cycling computers + tech | Sunglasses | Shoes | Shorts and jerseys | Components | Tools | Accessories