Tech of the week: bumper Tour and Eurobike special issue
Five new bikes and a mass of Tour news as well as new computers and clothes ranges plus Tech of the Month video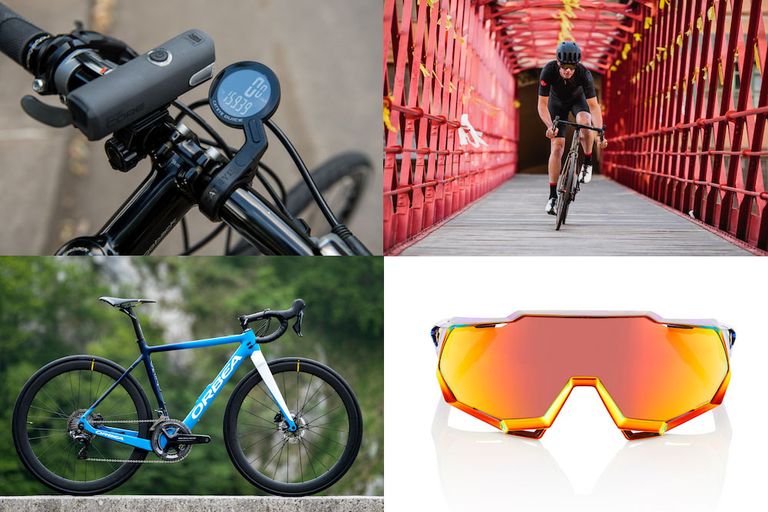 The week before the Tour de France, there is usually a bumper crop of new product launches and special edition announcements. That's been compounded this year by the huge Eurobike trade show being moved to the weekend after the Tour starts. So here's a supersized guide to the last week's tech.
Tour tech news
This week, we've found out pretty much everything that Romain Bardet will use and wear on the Tour, except his underwear. So we've had his limited edition paint job on his Factor O2 bike, limited edition Mavic wheels and shoes and new Bollé sunglasses.
Not to be outdone, we've had three Peter Sagan special edition sunglass models from 100%. We've also had Richie Porte's new Giro Aether helmet, with a new MIPS technology integrated into the shell for lighter weight and better aerodynamics. And we've a video run-down of the bikes ridden by every team in the Tour.
We've had six new aerobikes launched this week too, all with disc options or disc-only. Cannondale has its first ever aero road bike, the SystemSix, and we've been out to ride it at the launch. While Specialized has the new S-Works Venge aero bike. It's designed to be faster, lighter and easier to live with. Again, we've our first ride impressions, as well as a look at Sagan's blue-and-grey model he's riding in the Tour.
Plus, there's a new version of the BMC Timemachine aero bike. It was tough, but we had to go out to Switzerland to give it a spin too. Another new aero bike: the Trek Madone SLR. This time, we rode it in Wisconsin along with Jens Voigt.
Also this week, we've had Look's new aerobike, the 795 Blade RS and Ridley's new Noah Fast.
And if it tires you out just to think about all these new aero bikes, you can always opt for the new Orbea Gain Carbon. No it's not aero, but it does have a motor built in, whilst still coming in at just 11.3kg. And if you need to lube it, Muc-Off has a new e-bike specific lube range as well as a load of other new stuff.
The 3T Strada aero road bike is striking, but its single ring only design has stirred controversy, not least within the Aqua Blue Sport pro team, who ride the bike. Now 3T has bowed to the inevitable and released the double ring 3T Strada Due, complete with front mech hanger.
We've also looked at how the Veloviewer app came about. It takes data from Strava to display route info and has become an essential tool for many pro teams in plotting their tactics.
If all this Tour excitement has you itching to ride a few stages, you're in luck as Dig Deep Coaching and Zwift have a new three week turbo training plan designed to mimic each of the stages, but in bite-sized 45 to 90 minute chunks. And Bkool goes one further by providing turbo simulations of the actual routes of four of the Tour's stages, including the one to Roubaix and that to Alpe d'Huez.
New clothing, lights and computers
Away from the media glare – in an Italian café in Soho actually – Bradley Wiggins was announcing his new clothing range, launched in collaboration with the Le Col clothing brand. He says it's designed for inclusivity and to make a statement when out on the bike. Also this week, David Millar has launched the new Girona collection from his Chpt3 clothing brand. Made by Castelli, it comes with its own design and at a lower price than Chpt3's previous ranges.
Shimano too has a new clothing range and updates to its Boa-dialed road shoes. It's also got a new integrated carbon bar out. And Fizik has new colours of its Infinito R1 Knot shoe and new OO premium versions of its Versus Evo saddles.
If you like to put on a light show as you ride, you'll love the new Cateye Sync range. There are two rear lights and a front light, along with an app that lets you get them all flashing along together. And you can have up to seven linked lights, for an eye-popping display.
Cateye has a new commuter computer too, while Open Cycle has worked with analogue cycling GPS brand Omata to launch a limited edition Open UP design.
Another brand announcing new computers is Lezyne, which has told us about its two new Mega GPS units, one colour and the other with a large screen that can be set up portrait or landscape on your bars. It's a feature shared with two of Stages's new GPSs, announced this week.
For turbo fans, we've had new products from Wahoo, including a turbo fan and a quieter, heavier Kickr, as well as news that you can ride four full stages of the Tour on your turbo with Bkool or, if you're short on time for that, 21 45-90 minute stagelets with Zwift.
We've also had a quick jaunt through the entire Fulcrum road wheel range – there's plenty to choose from.
Finally, we've July's Tech of the Month video out, featuring budget products from Hunt wheels, Garmin and Wahoo as well as a bike from Canyon.
Plus deals this week have included Castelli clothing and the usual Sunday Trading.