Riders will compete for the first ever Zwift national champion jerseys later this month
Zwift's inaugural national championships will be held at the end of the month, with 15 nations holding races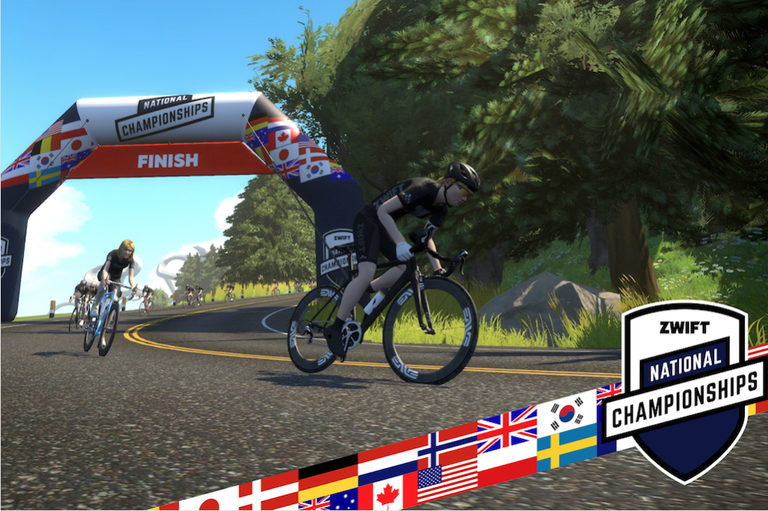 The online gaming and fitness platform Zwift has announced that it will host its first ever national championship races later this month.
Each nation will have two competitions; a men's and a women's. Both races will be played out on the 14.2 mile Watopia Volcano Climb course, with the men's race completing three laps (2,007ft of climbing) and the women's race two laps (1,338ft of climbing).
The winners of the races earn the right to wear the National Championship jersey for 12 months.
The 15 nations with the most members Zwifting will each have a competition. These include the USA, UK, Canada, Australia, Germany, Japan, Netherlands presented KNWU, the Dutch national cycling federation, Norway, Belgium, Sweden, South Korea, Denmark, Switzerland, France and Poland.
The Australian national championships will happen later this year to coincide with their winter cycling season.
Zwift asserts that those wishing to compete must enter the championship corresponding with their nationality, not the country of their residency. It follows this by saying "if your home nation isn't featured, fear not, more countries will be added in 2019".
The United Kingdom's race will start at 10.30am on February 24, with the USA kicking off at 4.00pm GMT, 30 minutes before Canada.
Watch: Turbo trainer buyer's guide
http://www.youtube.com/watch?v=Cm8iFZaq8Kc
If you fancy competing, Zwift has created some rules you need to be aware of.
Firstly, riders are required to wear a heart rate monitor to be eligible for the win and riders will have to use a power meter or smart trainer; Zpower will not be eligible. Following this, any riders producing over 5w/kg average will automatically be disqualified. They will be reinstated if they can replicate the performances to ZADA.
Strava data for the Zwift National Championships must be open (not private or hidden) and riders must be registered at Zwift power before the race. Finally, as mentioned previously, eligibility is based on a rider's Zwift account country/flag, not their residency.