These front and rear lights won our bike lights grouptest - and now they're massively reduced in the Black Friday sales
Two very bright and great value lights have gotten even cheaper…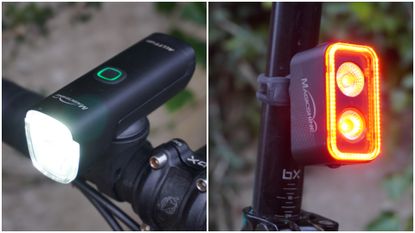 (Image credit: Future)
When it comes to quality, high-powered bike lights at a reasonable price, Magicshine keeps on delivering. I've been particularly impressed by the Allty1000 Front Light and the SEEMEE 300 rear light, with each topping its respective category in our best bike lights grouptest. As it happens, both are currently 30% off for Black Friday - making their value even better than it already was.
---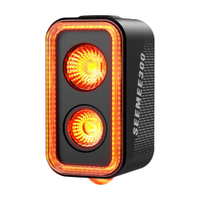 Magicshine SEEMEE 300 rear light:
Tracking the prices on Amazon, the current reductions are the cheapest this light has ever been, making an already affordable light even better. I can't stress enough how bright this light is even on the lowest setting - which makes the battery life phenomenal as a result. You can read more in our best bike lights buyer's guide.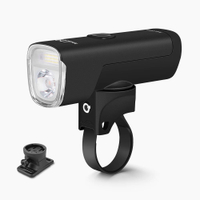 Magicshine Allty1000 front light
Like the claimed weights for components, some brands can have a 'flexible' notion of Lumens when it comes to their lights. The Allty 1000 bucks that trend and delivered a particularly bright and powerful beam, all the more impressive considering its price. A heads up for the UK, the best deal I could find is on the RN1200 model, which is both a little brighter and a little cheaper right now
Whereas other lights can fail to live up to their claimed lumens, the Allty1000 was the opposite and boasting a particularly strong and clear beam. This, combined with the slim size and highly competitive retail price makes it our top recommendation for road cycling lights - if your budget doesn't stretch to Exposure.
I've been using this light on my rides to and from town (20km each way) for several months now. The route includes everything from brightly lit city riding and busy roundabouts to unlit country lanes with high hedgerows which makes them darker still.
Some lights I would characterise as simple 'commuter lights'. These are bright enough for city riding and sufficient for riding steadily along on darker roads - but not bright enough for hard efforts and riding at higher speeds.
The Magicshine Allty1000, in contrast, is fully bright enough for putting hard efforts on unlit roads - ideal for sprinkling a little interval training on the ride back home. You can check out the beam comparison below to see how the Magicshine Allty1000 really stacks up - not as much side coverage as the Exposure Strada MK12 RS Aktiv, but very competitive regarding the central beam. You can check our guide to the best bike lights over here for the full details. Or, if you're after a bargain, you can find all the best Black Friday bike lights deals we've found so far over here.
Image 1 of 5
On the Magicshine SEEMEE 300, a special shout out has to go to its mounting system, which is a particularly neat design. The Silicone strap is a very common feature these days, allowing for attachment to a range of seatpost depths - but the extra innovation here is an integrated quarter turn mount, making it super easy to take the light off if you're popping into the shops. You don't often see both features combined together.
There seems to be a bit of an arms race for ever brighter rear lights, which I don't think is necessarily very helpful. Just 15 lumens is really very bright and perfectly sufficient for being seen at night. On the other hand, I have quite enjoyed the much brighter flash for during the daytime or when suddenly braking - that is quite a useful feature and a reasonable use of those extra lumens.
But when it comes to putting on a steady beam, I never go above the lowest setting. On the flipside, with the lights having the ability to shine so brightly, the batteries need to be sized up accordingly, and so I have been quite enjoying the super long battery life on my 15 lumen setting that just 10 years ago would have counted as 'very bright' indeed.
Get The Leadout Newsletter
The latest race content, interviews, features, reviews and expert buying guides, direct to your inbox!