Save up to 60% in Sigma Sports' massive Black Friday sale
Get big discounts on bikes, electronics, cycling accessories and more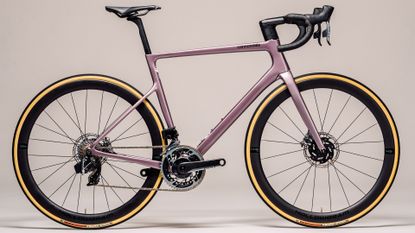 (Image credit: Sigma Sports)
Black Friday is here and that's very good news for cyclists.
Top retailer Sigma Sports is offering massive Black Friday discounts (opens in new tab) this year, meaning you can save up to 60% on hundreds of products from the leading cycling brands on the planet. So whether you're looking to treat yourself to a shiny new piece of kit, or want to buy a thoughtful gift for your favourite cycling enthusiast, Sigma Sports has something for you – often at highly discounted prices.
If you want to take advantage of the best discounts, however, it's best not to hang around. Sigma Sports is clearing stock ahead of the eagerly anticipated 2023 season, and supplies are limited and selling fast. New deals will be added to the site all the way up to Black Friday itself, with offers running up to Cyber Monday (28 November).
Of course, with so many bikes, frames, helmets, turbo trainers and accessories on offer, it can be difficult to know where to get started. So we've put together this guide to the many highlights in Sigma Sports' epic Black Friday sale...
RRP £749.00 | Black Friday price £399.00
Looking to upgrade your bike's wheels this winter? Vel's handbuilt 50RL Carbon Tubeless Disc Brake Wheelset is precision-engineered to improve your time on the road. The wheels are aerodynamically designed to reduce drag, while simultaneously keeping you steadier in crosswinds. With an internal width of 20mm, they're compatible with modern, wider tyres, and there's enough sidewall support to run them at lower pressures, giving you a more comfortable, grippier ride.
Click here to shop now (opens in new tab)
Sigma Sports also has lots of great Black Friday discounts across the whole Vel range. Check them out here. (opens in new tab)
RRP £3,299.99 | Black Friday price £2,199.00
Keep yourself in tip-top shape throughout the winter months – and beyond – with this smart bike and trainer. Capable of simulating uphill gradients of up to 20% – the impressively responsive KICKR flywheel is accurate to +/- 1% – the KICKR is a brilliant way to bring your outdoor training regime indoors. Wahoo's virtual shifting tech can match bike gearing from major brands like Shimano, SRAM and Campagnolo, while riders who like to keep track of their training data will be impressed by the array of stats on offer.
When you buy, you also receive a free 14-day trial of the Wahoo SYSTM app, giving you access to a comprehensive library of cycling workouts.
Click here to shop now (opens in new tab)
RRP £6,500.00 | Black Friday price £4,225.00
If you're looking to replace your existing road bike, Black Friday is an excellent time to do it. The Cannondale SuperSix Evo Rival AXS features a full carbon frameset, built with truncated tube shapes to significantly reduce aerodynamic drag when riding at higher speeds.
This lightweight bike features SAVE manipulated rear stays to give you a smoother, more efficient ride when the road surface gets rougher, while generous wheel clearance accommodates tyres of up to 30mm wide. You also get a wireless, SRAM Force 12-speed gear configuration, and powerful, precise hydraulic disc brakes.
Click here to shop now (opens in new tab)
RRP £160.00 | Black Friday price £79.00
You should never overlook the importance of a good set of pedals, and the Shimano Ultegra R8000 Carbon SPD-SLs certainly fit the bill. Weighing in at just 248 grams per pair, these super-strong pedals are designed to deliver maximum responsiveness and smooth rotation. They're compatible with three-bolt SPD-SL style cleats, and supplied with yellow Shimano cleats, with a six-degree float. Their large binding target also ensures that engaging with your shoes is quick and easy.
Click here to shop now (opens in new tab)
RRP £349.00 | Black Friday price £249.00
Stay on top of your performance in the saddle with this sophisticated Garmin cycling computer. As well as diving into your riding metrics, the Edge 830 can provide insights that will help you train better – everything from data on how your body deals with altitude or warm weather, to handy reminders telling you when to eat or hydrate. You can also pair the unit with your smartphone to take advantage of useful functions like LIveTrack, which lets your family know where you are in the event of an accident. In other words, whether you're preparing for a big race or simply looking to improve your fitness, the Garmin Edge 830 is your ideal training companion.
Click here to shop now (opens in new tab)
And there's loads more...
If you're not quite sure what you're looking for, Sigma Sports has plenty of exciting Black Friday discounts – whether you're buying for yourself or that special cyclist in your life.
CLOTHING (opens in new tab)
Get kitted out for winter with waterproof jackets jackets, arm warmers, thermals, and lots more from Sigma Sports' impressive clothing range.
Top Black Friday pick 1: Castelli Alpha Ros 2 Jacket for £141-£256 (opens in new tab)
Top Black Friday pick 2: The Universal Colours Thermal Bundle (featuring the Mono Thermal Jersey (opens in new tab), Chroma Thermal Merino Shorts (opens in new tab) and Spectrum Merino Socks (opens in new tab)) is available for just £150 – half the usual price. Take advantage of the offer by adding all three items to the basket and using the code THERMAL KIT.
ACCESSORIES (opens in new tab)
In other words, the extra bits and pieces that enhance the cycling experience. This is the place to go if you're looking for lights, bottle cages, watches, hydration packs, bike hangers…
Top Black Friday pick: Vel 800 Lumen Front Light for £45 (opens in new tab)
RUNNING (opens in new tab)
And because sometimes it's not about the bike, Sigma Sports stocks plenty of running kit (including shoes and clothing) from leading brands like Hoka One One, On Running and Brooks.
Top Black Friday pick: Hoka One One Bondi 8 Running Shoes for £104-£123 (opens in new tab)
Whatever your cycling needs, Sigma Sports has got you covered this Black Friday. Visit sigmasports.com (opens in new tab) to find out more.
Thank you for reading 10 articles this month* Join now for unlimited access
Enjoy your first month for just £1 / $1 / €1
*Read 5 free articles per month without a subscription
Join now for unlimited access
Try first month for just £1 / $1 / €1