Black Friday: Free sportives: No Excuses
Your chance to ride a UK Cycling Events sportive for free! Limited spaces available. Supporting Alzheimer's Research UK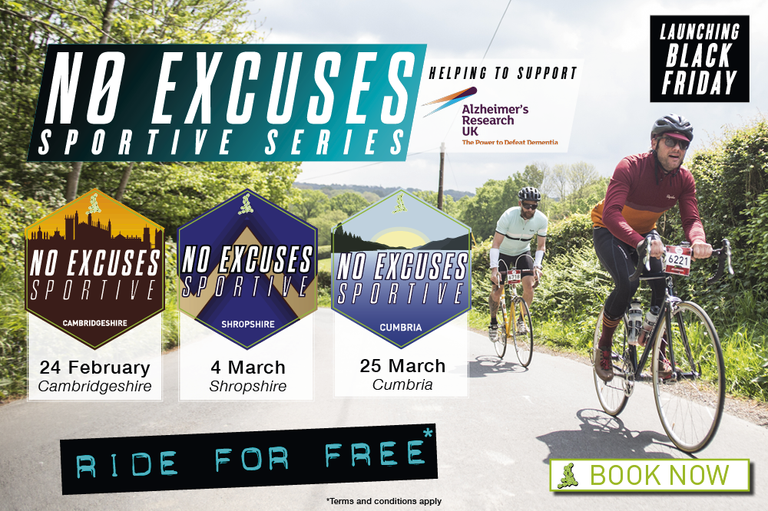 Bookings are now live for the No Excuses Series. This is a unique series of sportives because the majority of riders will take part for free. £0. Zero. Zilch.
This year the three sportives which make up the No Excuses Series are in Cambridgeshire, Shropshire and Cumbria and the concept is simple - book, turn up and ride for free!
There are a limited number of free places - so book today to avoid disappointment.
2018 No Excuses dates for your diary:
Saturday 24 February: Cambridgeshire | Peterborough Showground
Sunday 4 March: Shropshire | The Greenhous West Mid Showground
Sunday 26 March: Cumbria | Carlisle Racecourse
Uk Cycling Events are offering a limited amount of free spaces on all three of these sell-out rides. To secure your spot you will need to pay an initial entry fee of £40. However, if you book, turn up and ride, 100% of your entry fee will be refunded to you after the event! If you don't turn up…for whatever reasons (it is called 'NO EXCUSES'), then 90% of your entry fee will be given to Alzheimer's Research UK.
If you want to secure your spot on one of these sell-out sportives, but you aren't sure whether you will be able to make it? That's where the half price or 'half an excuse' option comes in. Secure your place for £20.00, however there are no refunds given on these tickets.
Natalie Hicks, Head of UK Cycling Events, said "These will be hugely popular sell-out events designed to support great causes and encourage riders back on their bikes after the winter season."
All three cycling events will have the choice of an epic or standard route and will be fully supported both medically and mechanically. Riders can also expect fully stocked feed stations, extremely well signed routes, route marshalling and a finisher medal.